[ezcol_2third]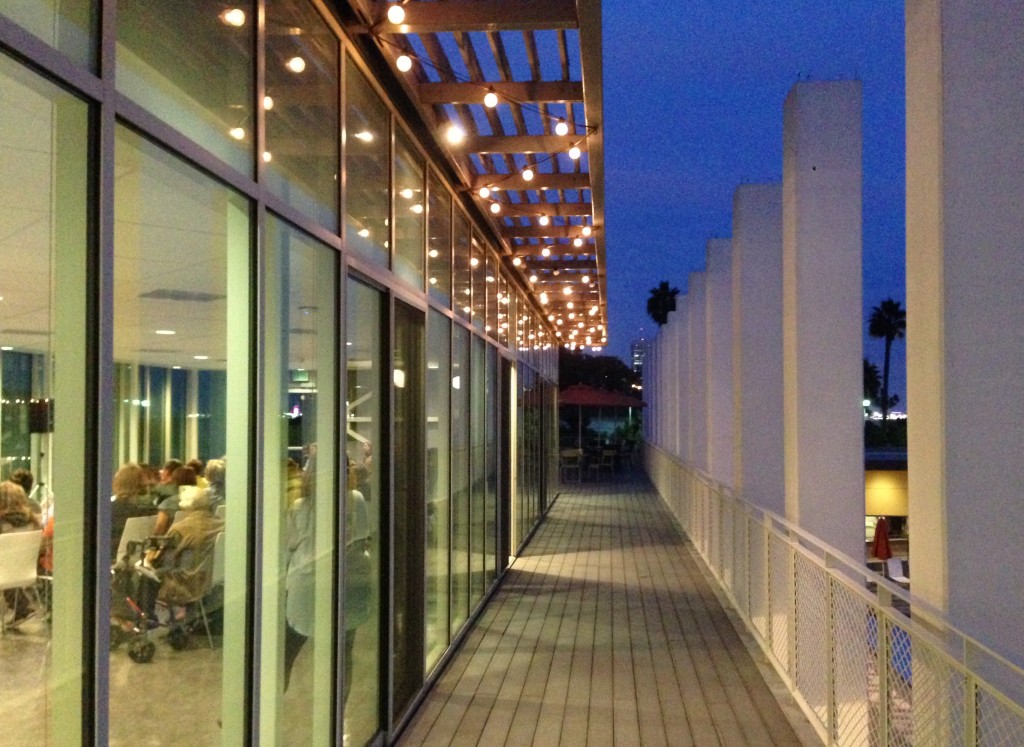 [/ezcol_2third]
On Tuesday, October 14th, 2014, AROHO and our fabulous partners at Red Hen Press came together with a full crowd of friends and arts enthusiasts for a reading at the Annenberg Community Beach House featuring To the Lighthouse winners, Genevieve Kaplan, Jessica Piazza, and Leia Penina Wilson.  The room was packed, the energy high, and the poetry at once riveting and uplifting, playful and powerful. Being together with so many friends was nothing short of magical.
The Pacific Ocean provided a spectacular backdrop, and moderator Mary Johnson (AROHO Board Member) gave fun and unorthodox introductions to the books of each of our readers as well as that of the other Lighthouse winner, Carolyn Guinzio, with her book already published by Red Hen. We look forward to Sarah Wetzel's River Electric with Light and Julie Marie Wade's SIX joining this excellent collection of published works!
Mary talked about her own experience of reading these books "cover to cover," as poetry is so often not read, and she encouraged everyone present to pick up a book to take home and read. For those less likely to read an entire book of poems, she gave each book a little primer:
"These poems taught me how to read them….

This book is for people who like birds.

This one is square-shaped.

This one is an adult Dr. Seuss.

This one has fantastic titles."
Genevieve read from her Lighthouse book in the ice house as well as from her collection of erasure poems, settings for these scenes, all created by "erasing" parts of a source text from Woolf's To the Lighthouse.
Jessica read sonnets (each one treating different clinical phobias and philias) from her Lighthouse book Interrobang as well as work from her new chapbook of ekphrastic poems, This is not a Sky.
Leia, who held her published Lighthouse book  i built a boat with all the towels in your closet (and will let you drown) for the first time that evening, read from that collection as well as other new (and equally beautiful, terrifying, and fantastically-titled) poems.
Each poet was amazing, her poems stunning in beautiful, twisted, and unique ways.
Which book will you take home? What has poetry taught you?