Welcome to TIDES
An AROHO leadership initiative to summon our creative sisters worldwide and weave together our threads for inclusion, diversity, equity, and sisterhood.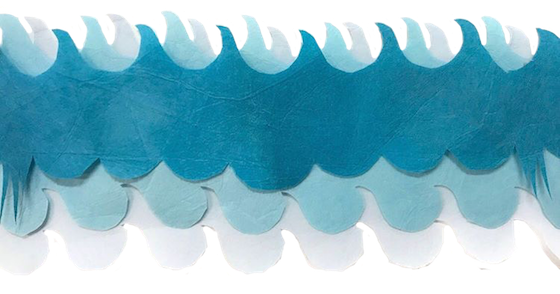 Welcome, Sisters!
Weaving inspires us as a uniquely feminine shared narrative that crosses cultures and boundaries, providing us with imagery that conveys our commitment. Much like waves, the act of weaving develops effort upon effort, amplifying what has come before. As women have so often created "history from the margins" (Wheeler), we seek to center our distinct artistic identities, honor our ancestral stories, and strengthen our diverse connections in a room of our own.
Within the cultural fabric of the social justice movements and the pandemic of 2020, the TIDES Advisory Circle formed as a leadership initiative to expand upon AROHO's principle of inclusion, support, and shared progress within our own community.
Listening deeply to our global sisterhood, we are taking steps to strengthen diversity and inclusion within our shared spaces and our leadership. Bolstered by WAVES, we will build upon what has come before – the hope and history of diverse sisterhood gathering together in safe, supportive spaces to share our unique and creative selves. As our literary ancestor and AROHO Sister, Maxine Hong Kingston, says, "…we go through a story together."
__________________________________________________________________
Social Sister | TIDES Internship
  Taiba Shams has been writing for the past five years and is a published writer, social app creative, debate leader, and active participant in theater based in Bangalore, India. She has a flair in communication, oratory skills, a knack for problem solving, management and leadership skills. Enjoy Taiba's creative work as our social media maven.
__________________________________________________________________
Sister Leaders | TIDES Advisory Circle
Sun Cooper has been in AROHO community since 2015, and served 5 years as WAVES editor and Fire Heart Sister. Prior, she was named AROHO's Blackbird Fellow and attended the writer's retreat at Ghost Ranch, where she first found sisterhood in the world of arts and letters. It was here that Sun shared about the Ghigau (ᎩᎦᎤ), the Cherokee beloved-war-women who modeled a way of leadership guided equally by compassion and courage. Sun is a single mother, published author, editor and director of Sun Literary, a diverse women-led agency based in Oklahoma with virtual agency worldwide. Having hearing disability from birth has forged her vision beyond perceived boundaries and facilitation for deep listening. Her multiple inheritances as a daughter of Indigenous, migrant, and settler ancestors shape her commitment to shared progress.
Saranya Francis is a multilingual poet penning poems in English, Hindi, and Tamil. She is a social activist, freelance life skills, language trainer, and diversity consultant. She has two anthologies of poems. Her poetry is featured in reputed anthologies. She is the recipient of the Bharat Award for Literature (2018), Rabindranath Tagore Award (2017), and National Chanting Bards Award (2017). She was conferred the Star Ambassador of World Poetry award at the World Poetry Conference in 2019. During the pandemic, Saranya hosted a virtual global gathering of leaders, writers, artists and students in collaboration with AROHO, and inspired a way forward for virtual and meaningful community, culminating in Global Camp Sisterhood.
Valérie Prot lives in France where she teaches English. As a kid, she used to live near an abbey tower that she had always considered as the center of her own compass. Now residing on the other riverbank, this is what she calls home: both sides of the bridge linking her past to her present. She has always been fascinated by the alchemy of words, the magical process contained in organizing letters together, while being inspired by one's personal and ancestral history.
Through another magic spell, years ago, she met Darlene Chandler Bassett, who invited her and her family to her home in America. They have shared their mutual passion for literature as well as their conceptions of one's creative self for years. Inspired by Woolf's considerations about creation and creativity, she

joined AROHO to support her sisters in a world where they explore, define, and chisel their own inalienable way through self-expression in art.

She has been involved in cross-cultural projects with her new friends from all over the world.
Karina Puente runs a women-led visual artist studio specializing in fun and feeling good. As a Mexican-American artist based in Philadelphia, Pennsylvania, she knows that inspiration begins with a blessing. Growing up on the central coast of California, her paintings, drawings, and modern Papel Picado installations reflect La Sirena and the Mexican cultural heritage of the Santa Ynez Valley where she grew up. Her large-scale art installations appear in galleries and sculpt air space in cultural centers and museums. In the studio, she focuses long enough to hear whispers from the Mother of Invention. Palpable in her studio, her great, great-grandmother was a seamstress by trade, where one hundred years ago, people brought her clothes to mend; she sewed designs for Indigenous communities, toggled the border between Mexico and Texas, and hand-delivered her work to clients. Working from home, heart, and by hand is Karina's way of honoring the practice of focusing as far as the ancestors can see.  Karina leads on AROHO's Board and has provided signature art for WAVES and Global Camps, and the virtual concept of DIVES, an intuitive practice which deconstructs paradigms of borders and isolation, and bridges a new way of inspiring, working, and connecting together.
Special acknowledgement to AROHO Sister, Andrea Mozarowski, for gifting us with the concept of weaving as shared sisterhood imagery.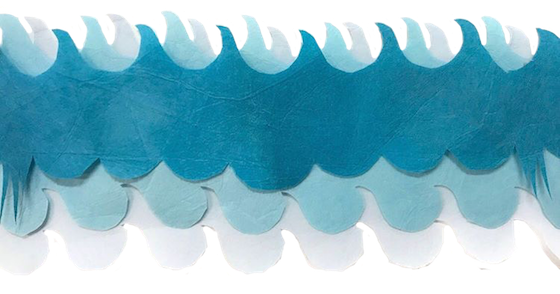 "A story can take you through a whole process of searching, seeking, confronting, through conflicts, and then to a resolution. As the storyteller and the listener, we go through a story together." – Maxine Hong Kingston, AROHO Sister and Literary Ancestor
__________________________________________________________________
On Claiming What's Ours  (A Distinctly Feminine Examination)

In today's culture, master-rooted terminology (ie. master, master class, mastery, mastered, masterpiece, masterful, etc) is widely-used and accepted as normative skill-based language, but has sociolinguistic aspects where this language is spoken. In feminist pedagogy, "master" has been identified as patriarchal language (Audre Lorde, others). Historically, "master" has association with master/slave/colonizer usage ("Plantation Effect," Princeton University, others). All of these aspects have impact for the women in our community.  Within the flow of time and culture, this normalized nomenclature found application in the following AROHO platforms: global camps, website, and social media messaging …
But in the Spring of 2022, TIDES heard the call from our Literary Ancestor Audre Lorde :"For the master's tools will never dismantle the master's house. They may allow us temporarily to beat him at his own game, but they will never enable us to bring about genuine change."

AROHO originated out of one woman's "what if" question to another woman. Ever since, AROHO has been asking WHAT IF?
So, here we ask again. What if AROHO removed "master" and its historical associations from our language? What if AROHO's community of creative women came together to imagine and activate genuine change for ourselves?
Entering thoughtful dialogue and distinctly feminine examination with previous Global Campers and AROHO's leadership, we determined this language does not serve us, our Global Camps, nor our community; and we embraced a paradigm shift – new nomenclature. We invite you to join your Sisters in our newly-named Global Camps and celebrate the "supra" spirit that defines our sisterhood, our culture, and our creative work.
Together, we break our creative isolation and publicly embrace and claim who we are and what we do as creative women without explanation or further delay.
__________________________________________________________________
Alt text: Images provided on this page are faces of  the TIDES Interns and TIDES Advisory Circle for A Room of Her Own Foundation.