"Telling Stories at Tea Time" by Zehra Imam
Karachi, Pakistan
When women hold tea cups their stories pour out. In Pakistan, when the tea arrived, it was a magical and sacred time. Samosas namkparay were decent additions but it was really the tea that gleamed gold in the evening sun, the real star of the show. The children didn't always drink it, we would run around it, ask for sips. We would ask to dunk our biscuits in it. But we didn't swallow it whole, just with timid sips for fear of its hot sweet sass. It was tea and what came up as a result of the women drinking it that educated us. Political parties, corruption, the jahanum we lived in.
Sometimes a neighbor or two would stop by in the evening and everyone would gather and exchange stories sipping tea and eating biscuits from the bakery or hot fried meat and vegetable samosas from the samosa stand. Stories such as how, just a few years earlier, M sahib's son had disappeared. Everyone knew he was involved with such and such political party and that it was like a black hole you could never leave. M sahib's son was returned to him in a bori, a sack, full of cut up pieces of flesh. "We've plucked his eyes from their sockets," the young delivery boys shouted and snickered, zooming off on their gleaming-like-tea-in-sunlight motorcycles as everyone present watched with hushed fear. On the sack in slanted jagged Urdu it read: the consequence of revealing secret information. The neighbors whispered that M sahib never was quite sane after that incident; everyday, he stared off into space from his wooden chair by the window pane as if fighting with memories to separate them from the memory of that day.
____________________
Share your response to this work, in any form, here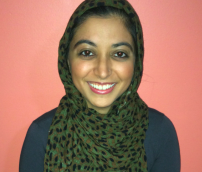 Zehra Imam Artist Statement: 
My mother told me that, when I was a little girl, I would gather all my stuffed
animals in front of a little blackboard and teach them the alphabet. I have wanted to be a
teacher since I was four-years-old. I grew up with a mother who was a blacklisted
journalist in Pakistan with friends who had been to prison for their reporting. My family
immigrated to the United States due to religious and political unrest in Pakistan. My
passion for education equity was sparked during the time I attended nine demographically
distinct schools between Pakistan and America. Between the ages I was six and sixteen,
we moved eleven times. Most of the cities I have lived and worked in since – Karachi,
Lucknow, St. Louis, Detroit, Madison, Chicago, Brooklyn, the South Bronx, and now
Riyadh – face major struggles, particularly with race relations and segregation.