"Tanka for Precious and Angie and Vivian, in Particular" by M. Nzadi Keita
Daffodils name you
'home of delicate things.' They
know your yellow mind.
Pollen trumpets secretly
nod. Hear them open their throats?
____________________
Share your response to this work, in any form, here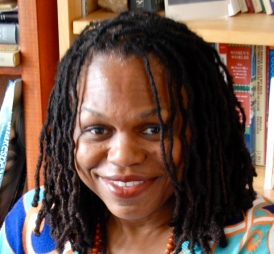 M. Nzadi Keita's Artist Statement: M. Nzadi Keita's collection of persona poems, Brief Evidence of Heaven (Whirlwind Press), sheds light on Anna Murray Douglass, Frederick Douglass's first wife for 44 years. Her journal publications include Crab Orchard Review, Mission at Tenth, American Poetry Review, and anthologies such as A Face to Meet the Faces: An Anthology of Contemporary Persona Poetry, and The Ringing Ear: Black Poets Lean South. Keita has received fellowships from the Leeway Foundation, the Fine Arts Work Center, and the Pennsylvania Council on the Arts. After stints as a data entry clerk, a security guard, a freelance journalist, and a community health educator, Keita is now an associate professor at Ursinus College, teaching creative writing, American literature, and Africana Studies.