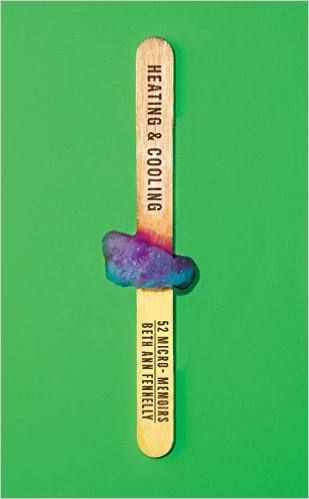 Buy from Norton Watch the Trailer

The 52 micro-memoirs in genre-defying Heating & Cooling offer bright glimpses–some as short as a sentence, some a paragraph or a page— into a richly lived life, combining the compression of poetry with the truth-telling of nonfiction into one heartfelt, celebratory book. Ranging from childhood recollections to quirky cultural observations, these micro-memoirs build on one another to arrive at a portrait of Fennelly as a wife, mother, writer, and deeply original observer of life's challenges and joys. Some pieces are wistful, some wry, and many reveal the humor buried in our everyday interactions. Heating & Cooling: 52 Micro-Memoirs shapes a life from unexpectedly illuminating moments, and awakens us to these moments as they appear in the margins of our lives.

[ezcol_2third_end]

"Beth Ann Fennelly brings a poet's sensibility to Heating & Cooling. Each entry is both insightful and precise, a perfect pearl of memory. By marking out these 52 moments, she draws a portrait of a life that is deeply felt and fully awake. I will be the first in line when there are 52 more." — Ann Patchett

"Strong and at the same time wonderfully vulnerable. There is a matter-of-fact revelation inherent in her work. I deeply enjoyed this book—deeply." — Dorothy Allison

"The pieces look like jewels—finely wrought, lyric, and subtle—but they expose themselves as creatures: vital, writhing, surprising, alive. They're funny as hell. They've got a cool wit, but they're feverish to the touch. They've been living inside me ever since I read them, heating and cooling me." — Leslie Jamison
"My AROHO Story" by Beth Ann Fennelly, Orlando Creative Nonfiction Prize winner, Fall 2015, for "Goner," selected by judge Sue William Silverman.

When I began the collection that became Heating & Cooling: 52 Micro-Memoirs, I wasn't really sure anyone would want to read what I was writing. After all, these were just little stories from my (rather unremarkable) life; stories of my life as a mother, wife, writer, and teacher; stories about people I knew in my small town in Mississippi. Some of these stories were quirky observations or memories or bits of overheard dialogue. The shortest was one sentence, the longest a few pages. I couldn't tell, during the writing, if these were going to hold any worth for anyone but me. But then I got the most excellent email, announcing that Sue William Silverman had awarded one of my micro-memoirs the AROHO nonfiction prize, and I thought—so maybe there is something here, so maybe these stories about my life could have something of value. . . .and I kept writing them. Thank you, AROHO.
[/ezcol_2third_end]