Dear Creative Woman,
To begin to comprehend our need for each other, consider the medieval pair Hildegard von Bingen (a mystic cloistered from age eight) and Eleanor of Aquitaine (a queen imprisoned by her husband for sixteen years), who forged an epistolary relationship. Today, we are no longer forced to wait patiently for letters to cross seas, yet our connection is equally precious.
__________________________________________________________
"At a time when I was resurfacing from illness and isolation, the encouragement … in 'A Room of Her Own' enabled me to reboot my dreams … and stalled projects … changing my whole perspective as a viable artist." – Rosalinda Ruiz-Scarfuto, Global Summer Camper (Spain), 2020 AROHO Grant Writing Fellow, newest book A Poet's Survival Journal in the Covid-19 Pandemic
Global Day Camps bring us together, amplifying the muses at our table and summoning back bits of us that have been floating, unmoored.
Our November day camps featuring WAVES contributors in residence still have space available, Nov. 7 and Nov. 21. Join us!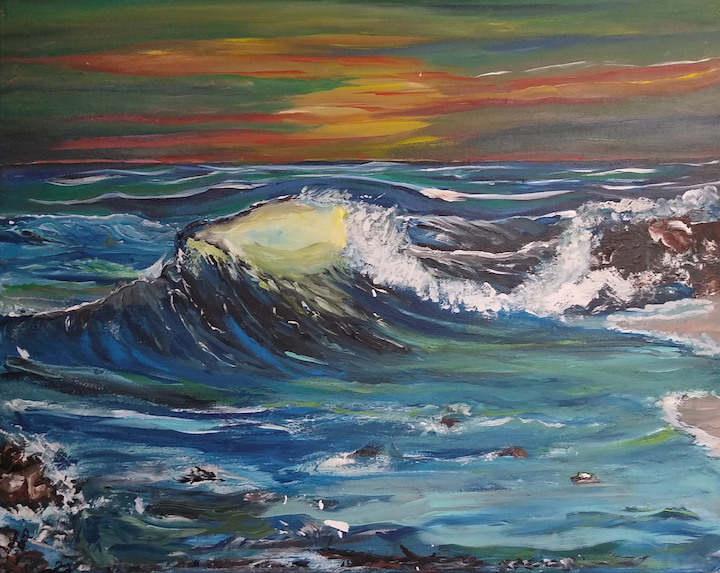 Raging Wave" art by Carolyn Wright
__________________________________________________________
Get sick, stay in bed and that's what happens.
You become a ghost in your own life.
Bits of me are floating back like moons to their
Mother planet. No one else has this exact memory
Of honey on toast or this bitter echo of a child lost.
I water the rosemary, sweep away cobwebs, let light and sound
Stitch my wounds, healing across time and space.
"Coming Back" by Beverly Lafontaine,
Writer in Residence, Global Day Camp, November 21
__________________________________________________________
Brigid was the Celtic goddess of poetry. She also ruled over fire and healing
and metalwork.
The first three made sense to me, but I did not come to understand metalwork until one day, typing away at my computer, I suddenly saw the metal of it.
The metal of the box that held it. The metal wires and components inside. The metal conduits to the electrical grid that brought power into it. The metal towers that provided signals and service for this communication.
"No Faith Without Body" by Cassie Premo Steele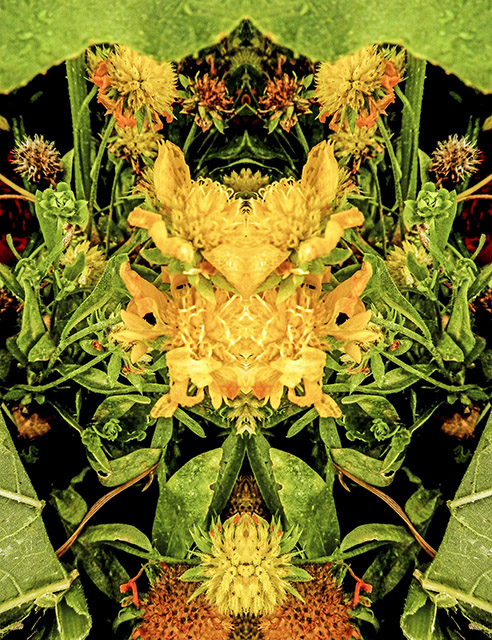 "Golden One" art by Lyndia Radice, Artist in Residence,
Global Day Camp, November 7

In honor of Diwali, Hindu Festival Day, November 14, we offer the gift of Bhanu Kapil's words, "When you speak your truth, there will be waves in the desert."
A 2020 winner of the Cholmondeley Award from the UK Society of Authors for distinguished achievement in poetry and former member of AROHO's Board of Directors, Bhanu's luminous presence, unique take on art, thinking, and inquiry will make this Global Camp a hearth like no other.
Bhanu Kapil, Artist/Writer in Residence, All-Fellow Global Camp,
December 12
"The test of a woman is not in what she will achieve or what she won't. It is not in how far she will travel nor the height of the mountains she'll climb. It isn't in what she will suffer or endure or forgive—not in what she'll overcome or survive. The test of a woman isn't her tenderness, the softer side of the so-called softer sex. No. A woman's mettle resides in the power of her beliefs, namely in herself."
Gabriela Frank, "When You Reach the Red"
____________________________________
A 2020 Message from the Women of AROHO:
Who could have guessed the year of our 20th Anniversary would be this historically momentous? The message isn't lost to any of us: more than ever, we need each other. To expand the reach of our words and art as women writers and artists, to heal, to empower, to lift each other. Whatever unfolds in the days and weeks to come, the women of AROHO remain committed to this joyful and necessary work.
Together, we strengthen our stunning global community as writers and artists, ascend our inherited and learned wisdom, and lean into each other and the long view of shared progress.