"At the Yoga Shanti Class for Cancer Survivors" by Cheryl Buchanan
We stand in Mountain Pose, Tadasana,
a giant step back with the right.
Bend the left leg, left thigh parallel
to Mother Earth. We lean,
prayer-hands connected.
The Sanskrit Yoga gives us "yoke,"
of the self and the divine.
We look like any class,
but for the socks and headwraps,
We need to minimize exposure
among the diagnosed and staged.
Feel the ground beneath
you. Everything will pass
and change…
In meditation I replay the burglary.
I'm on my mother's back porch
making her list of missing jewels.
Neighbor women gather in the kitchen.
Lilliana lives next door.
She only grows what will bear fruit.
Avocado, pomegranate, mango,
grapefruit blossoms and banana leaves.
The detectives think it's gypsies
from Miami. It is 85 degrees.
1. The wedding ring made into a necklace
after the divorce, 2. A charm bracelet of silver
booties from her grandchildren, 3. An heirloom
string of pearls.
One hundred years ago,
Dr. MacDougall weighed six bodies
before and after death. The New York Times
announced, "Soul has Weight, Physician Thinks."
The word Rei means miraculous. Ki
means gas or energy…
Feel the ground beneath you now.
You are a warrior.
You are a tree.
____________________
Share your response to this work, in any form, here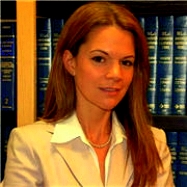 Cheryl Buchanan's Artist Statement: Cheryl Buchanan is an attorney from Los Angeles who earned her MFA while teaching Writing at Emerson College. She is currently writing a collection of poems, called "Witness," inspired by survivors of child sexual abuse. After having worked in social justice for over a decade, she is interested in promoting the power of literature in unconventional spaces and presently leads free community creative writing workshops in homeless shelters and addiction rehab centers through a nonprofit called Writers Without Margins. Cheryl has been the recipient of the Academy of American Poets Prize, the Boston Mayor's Poetry Prize and the Naugatuck River Review Narrative Poetry Prize.