Donate
Through AROHO, acts of generosity multiply and expand. 
As women receive the freedom and encouragement to commit themselves to their art, they inevitably extend this freedom to other women through public example, through the stories they tell, and often through practical financial gifts that enable others to take that next step.
Thanks to our Funders & Partners for their enduring generosity.  They make it possible for us to work on your behalf, and have demonstrated countless ways to support creative women.
Please join them and. . .
. . . Or give the gift of The Legacy Circle from AROHO's Store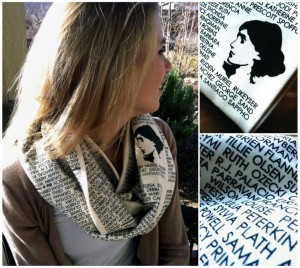 AROHO's Legacy Circle is an ever-expanding circle of women writers whose bold contributions, in the forms of both literary achievement and financial support, have broadened the field of creative possibility for other women.
Your purchase of the Legacy Circle Scarf, or other Virginia Woolf-inspired merchandise, crafts, and more, keeps this circle expanding.  100% of the proceeds go to support and create opportunities for creative women.
Or, if you donate $500 or more through the donate link above, we will send you a Legacy Circle Scarf and add your name to the list of Legacy Circle Funders. What better way to honor yourself, a creative woman in your life, or the creative potential of women in general than to support this circle…and get wrapped up in it.
Visit the AROHO Store