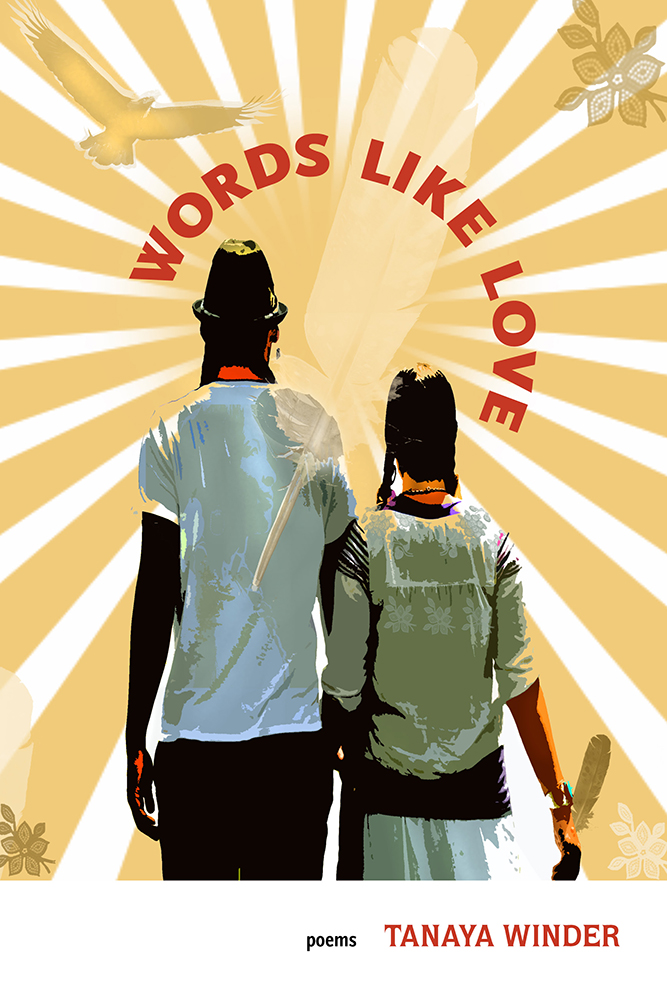 How do we pronounce words like love?
How do we believe in them, and how can we apply them to the missing, wounded and massacred: To the missing indigenous women in North America, to a wounded culture, a dying language and the open grave of a massacred history that we refuse to stare into? Tanaya Winder seeks to articulate this heartbreak in her debut collection of poetry, Words Like Love, poems that act as a series of love letters dedicated to family, culture, a decimated environment and all who perished under the brunt and brutality of the capitalist colonialism that shaped our reality.
Winder's poetry is armed love, speaking truth in the teeth of power.
In this slim tome, a mess of tears surges through every stanza, coursing its way through occupied territory, trying to find the heart, ready to penetrate its stone-cold reality. Words Like Love is a stunning debut where each page presents devastating, uplifting ruminations on the tragic dance between life and death in occupied North America, where the suffering of the marginalized goes unheard. Yet Winder breaks that silence by bearing witness and giving voice to the suffering.
Each poem is a reminder to the missing and forgotten that their lives matter.

Winder's poetry is a must-read for everyone. Let her words hold your hand and grasp your heart. And don't let go until we all learn to speak and act in the language of love.

– Kirbie Bennet

[ezcol_2third_end]

"Tanaya Winder's work offers us a profound knowing—that art cures; that the censured and frozen words of love can be born anew in the warm waters of our open mouths—from bathroom stall graffiti to the classroom poetics of "Patrick." I am already changed by this collection: in its keen intelligence, its vast empathy, and in the courageous specificity of each and every remembered wounding. Gracias, hermana-hija-poeta."—Cherríe Moraga, playwright, poet, and author of A Xicana Codex of Changing Consciousness

"These poems are a love song for a generation, for those who do everything they can to stand with dignity despite the insults, for those who have died tragically because they could not carry what these poems are carrying. Within these poems is the grief of losing a country, a family, a lover. The poet is a beautiful straggler of history who through poetry has learned how to fly."—Joy Harjo, Mvskoke/Creek poet, musician, performer and author of Conflict Resolution for Holy Beings
"My AROHO Story"—by Tanaya Winder, Orlando Poetry Prize Winner, 2010, for her poem "The Impermanence of Human Sculptures"

I was 24 years old; my best friend would've just turned 22. April is a month that holds space, collecting abandoned words in my mouth's cave, all the things I left unspoken, unsaid. My mouth is full of incomplete sentences, words like limbs chained to the tip of my tongue, waiting to be spoken and see the light of day.

On April 14, 2010, I received an email that altered the river of my poet/writer/artist life. But, here is something no one knows. This is the root of my longing for soil so nourishing it could grow something beautiful that would want to stay and be happy in its grounding. This is where my search for light strong enough to fill the black hole inside wounded hearts (including my own) began. On April 12, 2007, almost exactly 3 years before the email announcing I'd won the AROHO Orlando Prize for poetry showed up in my inbox, I found out my best friend had taken his own life.

I was at Oxford to study poetry. When it happened I didn't know there were some things words couldn't make sense of. I didn't know that some experiences existed in a plane just beyond any expression's reach. I didn't know I'd spend the rest of my life trying to get there – where words, art, song, and poetry could slow down time long enough to deconstruct a memory and rebuild it as a sculpture capable of holding all the light we cannot see.

After M. I questioned: what makes living (dying) bearable?

So I wrote and it gave me everything I didn't know I needed. After M. I changed majors, wrote more, and decided to get my MFA. I was writing to heal, but I didn't realize how political writing would be.

As a woman and a Native American writer raised on words like "story," and "remember," not being able to say words like "love" or phrases like "I remember" in a poem made me question whether or not I was worthy of the title "writer" that ivory towers in academia, literature, and the MFA machine define for us.

I stepped out of my MFA program to work with Native American high school students at the University of Colorado-Boulder. I didn't want to stop learning. So, I took a Lyric poetry seminar taught by Ruth Ellen Kocher. We read a poem about the artist Eva Hesse and I felt drawn to her. I researched more about her life and art. I'd read her mother committed suicide when she was 10 years old. Eva became the vehicle I needed to write the poem of the body as a living, breathing map of everything that ever happened to us.

I wrote the poem I needed to read, to survive at a time where I felt like my writing wasn't enough and I wasn't _____ enough. I wrote to feel free in struggling with my craft and displacement amongst "writers." I remember the email announcing I'd won, the sender described my poetic voice as "haunting" and "beautiful."

That moment and poem began my journey into writing Words Like Love, a book that wouldn't be possible without the gift that AROHO gave me.
[/ezcol_2third_end]