"Windy" by Annita Sawyer
I was born at Winter Solstice on a mountaintop. I came out howling with the wind.
"Here's Windy," the shout went up, while my dear Mama cried. Old Mrs. Dooley cleaned me off with freezing handfuls of white flakes. My blood showed scarlet on the snow. Once they'd bit and tied the cord, Mama herself held an icy ball against the knot. All the sheepskins, wool coats, down quilts they piled on couldn't take away the chill. "You screamed yourself blue," Mrs. Dooley told me when I was two, after I'd begged her for the millionth time to recite again the story of my birth. "Warn't no warmth got through to you." A miniature child with blue skin and red hair like me lived on forever in my mind.
Mama needed help at home–-there was just her and me–-so I never went to school. I couldn't read, but I learned to sew and weave and how to make things grow. We raised corn, all sorts of beans, and squashes, too, yellow, green, and orange. Tomatoes red as blood on snow overflowed their garden stalks. Watermelons sneaked through the fields like insurgents in guerrilla war. We surrendered, let 'em come, then passed the feast around.
Warm breezes kissed us summers on the mountaintop. From far and wide folks came to share our endless Solstice Day. "Sing to us, Windy," they'd call, and melodies moved through my feet till they flowed out my mouth. It wasn't really me. Mama would smile and squeeze my hand; I just set them free.
My midnight birth in winter's dark forever left its mark. In the cold I suffered spells so bleak I retreated to a cave, Mama and our neighbors leaving food for me to eat. While other children learned in school, I built fires that wouldn't burn. I hid near bats, and slept with bears to feel their warmth. Occasionally, I roused a cub, which made a wicked fuss. I had to climb a tree outside the cave, he'd eat my food, and I'd be stuck till spring's light changed my perspective. Then I'd head for home, bringing Mama armfuls of forsythia and daffodils I gathered along the way.
As shadows lengthen earlier each day, dear Mama's voice grows weak. Since summer's peak she's stayed indoors, afraid she'll take a fall. Her fears have multiplied ten fold—first snakes, then mice, then poison food, now devils in disguise. I smell snow blowing in the dark; I race the clock. "I'm Windy," I remind her, "your blue girl with red hair."
I wash her worried face; I brush her disappearing, wispy curls. Each day more of them depart her scalp for the pillow where she rests her head, first sham I'd woven on my own, after she taught me how.
I squeeze her blue hand tight in mine. Cold wind blows fierce. A howl rises from earth's core, through Mama, out the midnight sky. It's my time to cry.
Previous version published in St. Anne's Review in 2010.
____________________
Share your response to this work, in any form, here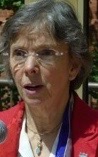 Annita Sawyer Artist Statement:
This essay grew from a longing to express my confused relationship with my own mother. It wrote itself.
Annita Perez Sawyer is a psychologist, a member of the clinical faculty at Yale, in practice for
over thirty years. She has been a Bread Loaf Scholar and a Wesleyan Writers Conference fellow,
a fellow at MacDowell, Millay, Vermont Studio Center, Ragdale, VCCA, and Hambidge Center
for the Arts. Her work has appeared in both literary and professional journals. Essays have won
prizes and twice been included among Notables in the Best American Essays. Her book, Smoking
Cigarettes, Eating Glass: A Psychologist's Memoir (SFWP 2015), won the 2013 Santa Fe Writers
Project Literary Awards Program nonfiction grand prize; Lee Gutkind judged.
Integrating literary and clinical skills, using herself as a case study, Annita speaks and writes
about lifetime consequences of childhood trauma, harmful effects of fads in psychiatric diagnosis
and treatment, the enduring impact of stigma and shame, and the power of human connection to
heal.