"When They Ask About My Face" by Nancy Carol Moody
I will say something
about snow, the skittered tracks
of a hare just prior to the hush
I will say wind bores
salt into sea-boards,
taut rope burns a furrow,
leaf rust in spring autumns elms
Hoarfrost bit by hob nail
meadow after the scythe
the dory's barnacled hull
a peppermint held
too long against the palate
When they ask about my face,
I will say that even a trodden carriage
leaves wheelmarks in the stone,
that shrapnel can flare
a staggering tattoo,
that left to their own devices,
sparks of midnight fireworks
will carve ferocious trails
into the black wax of the sky
____________________
Share your response to this work, in any form, here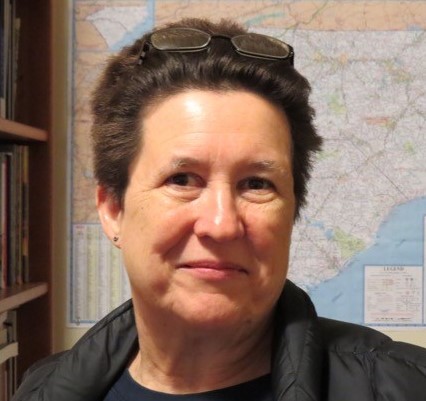 Nancy Carol Moody Artist Statement: Nancy Carol Moody is the author of two collections of poetry, The House of Nobody Home (FutureCycle Press, 2016) and Photograph with Girls, as well as Mermaid, an 8-poem chapbook from the Infinities series of Tiger's Eye Press. Her work has appeared in The Gettysburg Review,
The Southern Review, The Los Angeles Review and Nimrod. When she's not on a train, Nancy lives and writes in Eugene, Oregon.