In Women Who Run with the Wolves, Dr. Clarissa Pinkola Estés says, "Asking the proper question is the central action of transformation." The process by which AROHO invites submissions is an invitation into call-and-response, a shared dialogue as women of the world and, deeper still, into our own transformations.
We paused on Friday for 9/11 to remember; and in honor of National Hispanic Heritage Month this September, we celebrate the richness of "origins" and culture, and we ask the ancestors to speak to us.
___________________________________________________________________________________________
"Like the Women before Me" by Ashley Fernandes, in response to "What Do My Ancestors Tell Me?"
They whisper to me at night, softly into the crevices of my mind, as my body lulls into a state of
drowsiness. On the brink of sleep, I hear them – they're female, but they sound deep, raspy, and
soulful like that of wise women who speak for all it's worth.
"Write the poem," they tell me. My eyes dart open, my heart beats faster and
arrhythmically. "Tell the story."
"I don't know where to start," I think back to them, pulling the covers up to my chin and
squeezing my eyes shut. "Or what to even write about."
"Write from the legacy of women before you," they say, and I wrap my blanket around
me tighter.
Although I cannot see them, there are weary smiles and crinkled eyes in their voices, I
can feel it in my bones that ache for sleep. They have lived lives full of damnation, of hardship,
of rights and opportunities stripped away from them. I know they are the women before me that
used art as a symbol of their determination, of their battles they refused to give up. Reinventing
the definition of beauty, breaking out against the norm of normalcy to create pieces of noble
history – the things that women can do if given the chance, written in their fiery legacy.
"Write about us."
And so, like Toni Morrison, who defied all odds with her bouts of necessary wisdom, I
use my freedom to free others. I rise from my bed, and I sit down to tear away the fibres of my
mind, letting the darkest parts of me spill onto paper. Through an opening of the heart, the
selfishness of man comes apart.
Like Georgia O'Keeffe, a goddess of art and femininity, I paint, but with words. Strokes
of vowels and consonants and splashes of thought hit the page through smears of raven ink,
drawing pictures of lands far away and flowers too beautiful to be real. As I listen to the sound of
the pen rolling finely across my thoughts, I sigh dreamily in the wake of my forgotten anguish.
Like Frida Kahlo, the image of pure inner and outer beauty, I turn myself into art. My
face, written in words, is a picture of what it means to be empowered and female. I pour down
the deepest parts of my soul, preserving the bits and pieces of myself in the past and present and
what I'll come to be, in stories that move its reader and rock the parts of women that they were
too afraid to realize existed.
Like Mary Shelley, who held the secrets of mankind in her tales, the monsters of my
mind come forth in words deemed far too powerful for such a young girl, and yet, they bleed
from my pen without restraint. Although my body is youthful, my mind is aged with the wisdom
of great women and I shall be a teacher for girls after, a mother of all, in my own right.
Like Louisa May Alcott, a woman brave enough to invent stories where girls triumph
over fear in a time when they had reason to fear the world, I am not afraid of storms;  instead,
I use them to perfect my craft. The thunder and lightning of those who want to see women like
me fall comes down upon me in one swift wave, but I catch bolts in my fists only to dip it in my
ink and write some more.
Unlike what I am supposed to be, unlike what I am supposed to think, I bring colour to
black text through the energetic wave of divine femininity, and I am not sorry. My heart is filled
with dragons that cannot keep, and I have miles to go before I sleep, and miles to go before I
sleep. Still, my eyes seem to shut on their own, as the spirits of my artistic ancestors tell me what
it means to be a female writer in the twenty-first century.
I am a young Canadian woman of Portuguese descent. My parents grew up in poverty and sacrificed a lot to offer me the life I have today, and for that I am eternally grateful. Currently, I am a college student in early childhood education, and I run a small WordPress blog called Road to Ashland where I touch on things like spirituality, short stories and poetry, and anything else that I find necessary to put out into the world. Other works of mine have been published in Other Worldly Women Press, The Big Windows Review, and INKspire.

___________________________________________________________________________________________
"Stand with Grace" by kj wolf, in response to "Who Am I as a Creative Woman?"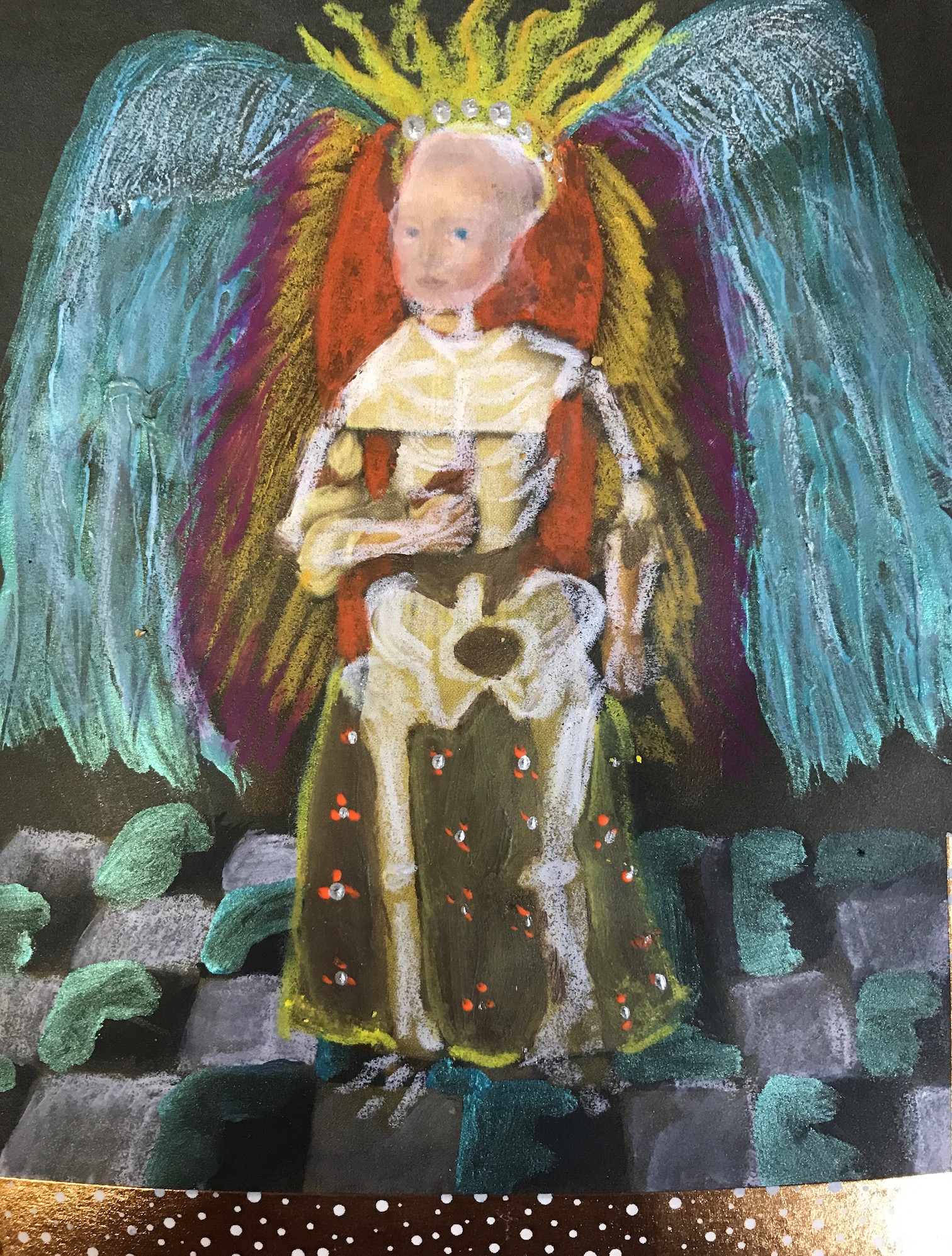 A Deep diving spirit walking woman am I. A stumbler, a stander, a strong quiet presence. My drive to touch, to see, to know, to feel has taken me to heights and depths around the globe many revolutions. I am mercury. Hard to catch, shining and bright, slippery to hold, a messenger navigating between the realms of healing arts, writing, teaching, visual arts, yoga, and being.
___________________________________________________________________________________________
"Origin" by America Garcia, in response to "What is Your Creative Origin Story?"
From the momentos (moments) of me dressing up my dolls
From the momentos (moments) of me designing my interior dream room with lots of closet
space for all my clothes, bags, and shoes
From the momentos (moments) of me stepping up for the first time at the thrift store and
looking at all the variety of textures, prints, and colors
From the momentos (moments) of me finding my favorite fashion designer, Iris Herpen and
falling not only in love with 3-D printing but also Avante Garde fashion
From the momentos (moments) of me experimenting up with clothes to make me feel like me/
from embroidery, patchwork, to painting with acrylics and watercolors into a denim cropped
white jacket or white cargo pants
From the momentos (moments) of me fixing up and doing colorful makeup looks for a picture
on Instagram
From the momentos (moments) of looking at shows like RuPaul's Drag Race, Pose, and
looking in love to be extravagant
From the momentos (moments) of my abuelita(grandma) cosiendo (sewing) my charter
school uniforms
From the momentos (moments) of watching people's freedom of expressing on how they want
to look as
From the moments (moments) of feeling orgullosa (proud) de donde eres (of where you come
from)
I love fashion, film, and writing. I am also a former university student majoring in both theatre with a film/tv concentration and business administration. I plan to become both a fashion designer and film director. I want to influence others to not be afraid of pursuing what they want to do. I want to create change and make an impact in this world.
___________________________________________________________________________________________