Vanessa Diffenbaugh: Orlando Short Fiction Judge
I couldn't have written 

The Language of Flowers

 without being a mother and a foster mother.  But lately I've also been thinking about how the two—being a writer and a mother—sometimes feel like opposing forces. […] I don't have advice, really, other than to try to honor both roles and to just keep going.—Vanessa Diffenbaugh 
AROHO is pleased to announce bestselling author of The Language of Flowers, Vanessa Diffenbaugh, as the finalist Short Fiction judge for the Fall 2014 Orlando Prizes. The Language of Flowers, Vanessa's debut novel, draws from Vanessa's personal experience as a foster mother. We asked her if she has any tips about balancing the life of a writer and the life of a mother, and what she looks forward to finding in the Orlando Short Story submissions:
AROHO: The Language of Flowers draws from your personal experience as a foster mother. Do you have any tips about balancing the life of a writer and the life of a mother?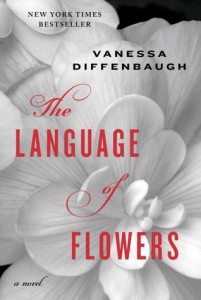 VANESSA: There are so many wonderful ways that having kids affects my writing—the things they do and say, the experience of learning to love and care for another human being—I couldn't have written The Language of Flowers without being a mother and a foster mother.  But lately I've also been thinking about how the two—being a writer and a mother—sometimes feel like opposing forces.  I recently read The Grass is Singing by Doris Lessing, and in a lengthy biography at the end of the book there is a sentence that reads something like: "And then she got married and had a child and then she left her family to be a writer."  I will admit that there have been days, especially in writing my second book, that I understand that impulse! There are phases in a book that take all of you—you have to be mentally and emotionally inside the world you created for long stretches of time.  Every question from your five year old or demand from your husband jerks you out of that space, and sometimes you feel like you will never be able to achieve the kind of forward momentum that a long work of fiction requires.  But for me, being a mother and a wife is my primary role.  It is what I live for, and I think in the best moments in my writing, this passion and commitment to love and to relationships come through.  So I guess I don't have advice, really, other than to try to honor both roles and to just keep going.  Carve four, eight, twelve hours at a time out here or there, go away for the weekend when you can.  Don't be too hard on yourself or your family.  The good thing about having a family is that it makes you incredibly productive.  When I do finally get away for a whole weekend, I miss them so much that I set a goal for myself, and if I reach it early I let myself go home early!
AROHO: Do you have any activities that help you jump-start your creativity when the well is running dry? 
VANESSA: I draw a lot of energy from the location where I work, so when I am feeling exhausted or overwhelmed by a book I will go someplace where I know I feel good and write there.  When I was writing The Language of Flowers that place was my husband's grandparent's apartment in San Francisco.  Every Sunday I would leave my kids with my husband and drive almost two hours from my home in Sacramento just to sit by their big picture window, looking out over Chinatown and the bay all the way to Berkeley, and write for eight hours and then turn around and drive home.  This spring, in the (hopefully) last stretch of my second novel, I have been driving from my home in Newport Beach to San Diego to sit in the lobby of a hotel I love with a beautiful view.
AROHO: What is one resource you wish more women writers had or knew about? 
VANESSA: My greatest resource as a woman writer has always been other women writers.  The last few years have been hard because I've moved twice for my husband's work, so I have been uprooted from two fabulous writing groups, the first in Sacramento and the second in Cambridge.  When I moved to Newport Beach I was desperate, and didn't know anyone, and so I reached out to the fantastic booksellers at Warwick's in San Diego.  They emailed me back immediately with a list of authors they had worked with that lived near me, and many of those women are now my friends and readers.  So I would encourage women to hang out at their local bookstores, and if you need help getting connected to others, just ask!
AROHO: Is there anything you look forward to finding or hope to discover in the Orlando short story submissions?  
VANESSA: I am thrilled to be a judge and honored to have the opportunity to read stories from women of the AROHO community!

VANESSA DIFFENBAUGH was born in San Francisco and raised in Chico, California. After graduating from Stanford University, she worked in the non-profit sector, teaching art and technology to youth in low-income communities. Her debut novel, The Language of Flowers, was on The New York Times Best Sellers List for 50 weeks and has been translated into more than 40 languages. She is also the co-founder of Camellia Network, whose mission is to connect every youth aging out of foster care to the critical resources, opportunities, and support they need to thrive in adulthood. She currently lives in Orange County where her husband is working as the Director of 7-12 Instruction for Garden Grove Unified School District. Vanessa and PK have four children: Donovan, 24, Tre'von, 22, Graciela, 7, and Miles, 6.
You can learn more about Vanessa and here work here and about the Camellia Network, a support network for youth aging out of the foster care system, here.
The deadline for submitting to the Fall Orlando Prizes is July 31st, 2014.