"The Weight of White" by Lorraine Mejia
He brought her to his orchard home
of white snow, holding her out
with pride so his family could see
her beauty. They only saw her accent,
saw through the bleached hair.
Woman with Aztec blood! Father
tried desperately to make them see.
In the farmhouse attic bedroom,
the grandfather clock
that used to rock him to sleep
now watched as she silently cried,
reapplied makeup so they wouldn't
know. Outside, snow softly fell,
covering their newlywed car
with the heavy weight of white.
____________________
Share your response to this work, in any form, here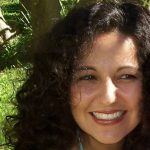 Lorraine Mejia Artist Statement: 
Somewhere along most women's journey, she wakes up and has lost herself. That is when Wild
Woman – every woman's authentic, natural self – comes knocking at the door. Lorraine Mejia's
poems explore women on their way to rediscover themselves. Her poems also tell Mejia's unique
stories of growing up Mexican in Minnesota, reawaken the lost voices of the forgotten Porvenir
Masacre and pay tribute to the founders of the American Cowboy. Lorraine Mejia holds an MFA
in Creative Writing and a MLS in Youth Librarianship. She is the author of Wild Woman at My
Door. Her poems have won several awards, and have appeared in anthologies such as Between
the Heart and the Land/Entre el corazón y la tierra: Latina Poets of the Midwest and in literary
journals including Willow Springs, Inkwell, and Calyx. Lorraine Mejia teaches online writing
classes to people of all ages at lorrainemejia.com.