"The Untenable" by Cynthia Reeser
A rusted gash in a frigate's flank. Her screaming mouth. Rope uncoiling from tree. His tightening grip around her throat. Her pregnancy a hint of a lump. Rotten Easter eggs, unfound in July. His red swollen face, a Goya of anger. Spine of redfish, played like a xylophone. Her head hitting the floor, unconscious. The hot press of the mattress. The thrum and thrum and thrum of pumping blood.
____________________
Share your response to this work, in any form, here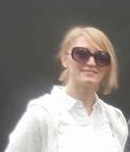 Cynthia Reeser is the Founder and Publisher of Aqueous Books, and Founder and Editor-in-Chief
of Prick of the Spindle literary journal. She has published more than 100 reviews in print and online, as
well as poetry and fiction in print and online. Her short stories are anthologized in the Daughters of
Icarus Anthology (Pink Narcissus Press, 2013), and in Follow the Blood: Tales Inspired by The Hardy Boys
and Nancy Drew (Sundog Lit, 2013). She is an editor by profession and lives near Birmingham, a city
undergoing a cultural renaissance. Visit her on the web at www.cynthiareeser.com.