"The Summer Lolly" by Breena Clarke
Cleary took rooms in a cottage at the seaside. I was sick in the worst way since I heard what happened to the preacher woman. I cried, and he threatened me. He said he would leave me and, at first, I wished he would. But I beg him not to leave me off nowhere. He says, "Be a good, quiet, brave girl. I'ma take you for a turn by the sea."
Cleary ain't no weak man. He can walk in anywhere and tell 'em what he wants, and they better hurry to give it to him. They may look at him sideways when they see me, but they don't say a thing.
He bought me two new dresses after he shot that runaway and splattered the buckra's innards all over me. They's both nice, pretty-plain, gray-colored dresses. He bought me a white shift, too. He say to put it on when I undress and then come to him in bed so he can take it off. He like to command.
At the beach, in our rooms, in our lolly, I put that shift on and took it off four or five times a day. I went out to fetch crabs and oysters for our meals. I never eat so much or laugh so hard. I drink a lot. Cleary make me drink whiskey. I steal away and bathe in waves without my shift and the sea fingers me lovely, tiny grits of sand stick all over me.
I know right away I got a baby. We was three weeks down on the shore. My blood doesn't come, and I am swole. What he goin' to do when he find out? He told me don't make no babies. "I'll dump you," he say. It all up to Cleary anyway. He got the right to take me back to Woolfolk or even to kill me. I never seen him kill a woman. He only shot that bukra because he was going to throttle me.
If I run off from Cleary to save myself, it will be two of us to starve. I could do washing, but where I'ma lay myself down when my child wants to come? Where we going if Cleary don't keep us? When he mad, he say he send me back to Woolfolk. I look up under my lashes with my head down and he lif' my chin and brush his hand on my breasts, and he remember why he don't want to take me back. What happen when the Granny-woman say don't let him in that door? How I'm going to keep him from selling me and John to South? I'm calling him John. I don't care what Cleary call him! I'm calling him John.
Is my John going be like his Papa, like Cleary? Is his Papa going to make him free?
____________________
Share your response to this work, in any form, here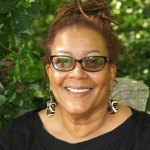 Breena Clarke Artist Statement: 
Breena Clarke, currently a resident of Jersey City, has written three historical novels. She has recently published Angels Make Their Hope Here, set in an imagined mixed-race community in 19th century New Jersey. Breena's debut novel, River, Cross My Heart (1999) was an Oprah Book Club selection and her critically reviewed second novel, Stand The Storm, set in mid-19th century Washington, D.C., was chosen by the Washington Post Book Review as one of 100 best for 2008. Breena Clarke is a member of the fiction faculty of The Stonecoast MFA Creative Writing program at The University of Southern Maine, and is an organizer of The Hobart Book Village Festival of Women Writers.
Breena blogs about the writing, editing and promoting process at: https://www.tumblr.com/blog/angelsmaketheirhopehere and www.BreenaClarke.com. Prior to publishing her novels, Breena administered the Editorial Diversity Program at Time Warner Inc. in New York City, where she mentored a number of young journalists and writers.