"The Suitcase" by Rinat Harel
1.
Lifting the lid, she said,
"Bonbons for my girls";
ghosts in her German accent
floating about.
"Dollhouse table," my sister declared.
"A sofa, and this chair."
Collecting the wrapping paper,
I inhaled Granny's flowery perfume, and imagined
her house in London.
2.
The drifting desert sand, Mother removes
from Granny's gravestone once a year.
I pulled out the suitcase waiting
in the boidem, dusted it off.
My diary packed, small can-openers,
some scarves—waving good-bye,
I moved to another country.
3.
On snowy days, I look to the East—
my hair as grey as Granny's
on her visits long ago—and think
of the Desert and the Forty Years,
asking, Where is Home?
____________________
Share your response to this work, in any form, here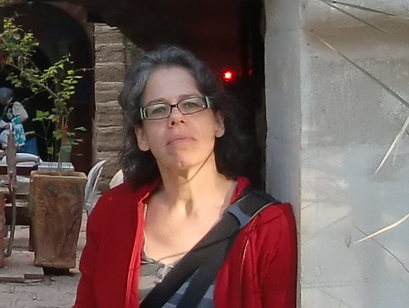 Rinat Harel's Artist Statement:
Born and raised in Israel, I had moved to the U.S. in 1991. Having earned a bachelor and master's degrees in fine art, I am now pursuing an MFA in creative writing, and my story Africans, White City, and a Pint of Guinness had recently received the Emerson College 2015 Writing, Literature & Publishing Graduate Writing Award in Nonfiction. (Judge: Robert Atwan, editor of Best American Essays). I had also won the GrubStreet Boston Spring 2014 scholarship.
My writing focuses on the complex reality of life in Israel; as I write, I imagine the words slice through the various layers of life in Israel to expose its complexity and
nuances through the social, political, and cultural challenges. My work has been published in magazines such as the East Coast Ink, The Masters Review, Consequences Magazine, and Canyon Voices.