"The Refugee" by Julie Christine Johnson
1 used lifejacket
1 passport
1 sunhat
Toothbrush
Comb
Seasickness tablets
200 Euros
200 Turkish liras
Three multi-packets of cigarettes
With this, and the clothing he wears, he leaves a broken city whose name meant copper in a language time has long since melted down and reshaped. The man's name, the one thing he carries that no one can steal, is Radwan.
~
1 eiderdown duvet
1 set of bath towels
1 down-filled anorak, worn only once
A man in a town with a name that means Driftwood Bay prepares for the arrival of the refugee. His own name, Árni, has been handed down from grandfather to father to son to a grandson who lives not far from Keflavík. Close enough that Árni visits every Sunday for supper. He will invite the refugee to his grandson's home. Everyone is waiting.
~
For years, they had been telling Radwan to leave Aleppo. The young linguistics professor should take his family and flee to Turkey, they said. Follow the footsteps of his colleagues to London, Hamburg, New Jersey.
Yet he stayed. He learned a new language, the language of war: barrel bombs, improvised mortars, RPGs. He queued for hours to buy cooking fuel and watched, helplessly, as one of his colleagues had a heart attack and died, on the sidewalk, in the heat.
Not until rebel groups and ISIS began fighting each other for control of his disintegrating city did Radwan admit he must go. One group or another, so many factions that no one knew who opposed whom, would raid his home at midnight and force a father of four to become a soldier.
~
Árni hangs the anorak in the spare room closet and folds wool sweaters in the bureau drawers. The sweaters are woven in somber blues and grays, the color of his peninsula wrapped in winter. Does the man have a family? Has he made his journey alone? The Red Cross tells Árni nothing of the man's story, for the refugee has not yet arrived.
~
For weeks Radwan travels, from Syria through Turkey, Greece, Macedonia, Serbia, Hungary. Stories reach him: dozens suffocated in an abandoned lorry in Austria. The newspaper left on a park bench shows a tiny boy in a red shirt, the same age as his Sami, washed up on a shore in Turkey.
It is September and he intends to reach Germany, where he will find a way to bring his family out of Aleppo. Then he hears one word repeated on parched lips: Iceland.
~
In Keflavík, a larder is stocked with rice and potatoes, onions and garlic. Árni has washed a rainbow of fruits and vegetables. He thinks perhaps this eggplant, these tomatoes, this melon might have been grown in places that touched the refugee's own homeland. Still life, ignorant of war.
~
It is December, and snowing, when the men meet. Over a meal, in a warm home, a story quietly unfolds.
____________________
Share your response to this work, in any form, here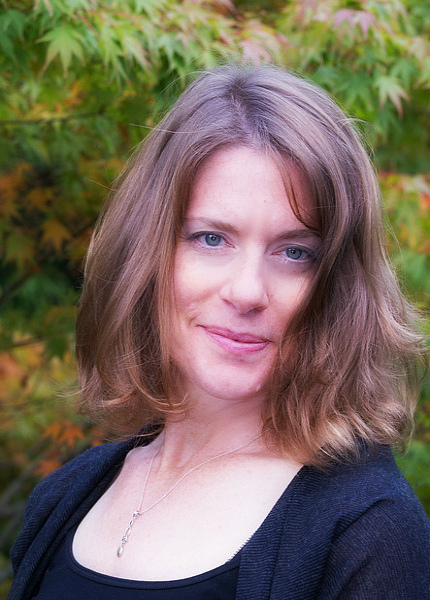 Julie Christine Johnson Artist Statement:
Julie Christine Johnson's work appeared in several journals, including Emerge
Literary Journal; Mud Season Review; Cirque: A Literary Journal of the North Pacific
Rim and in the anthologies Stories for Sendai; Up, Do: Flash Fiction by Women
Writers; and Three Minus One: Stories of Love and Loss. She holds undergraduate
degrees in French and Psychology and a Master's in International Affairs. Julie leads
writing workshops and offers developmental editing and writer coaching services.
Named a "standout debut" by the Library Journal and "Very highly recommended"
by Historical Novels Review, Julie's debut novel In Another Life went into a second
printing three days after its February 2016 release. A finalist for The Siskiyou Prize
for New Environmental Literature, her second novel The Crows of Beara (Ashland
Creek Press) will take flight September 2017.
A hiker, yogi, and wine geek, Julie makes her home on the Olympic Peninsula of
northwest Washington state.