A Room of Her Own Foundation has always worked to elevate women's voices from around the world to help us find each other and make waves. This is why AROHO aligns in principle with anti-racism and justice movements. We are committed to our moral and mutual responsibility to each other, and to the principle of inclusion that honors, engages, and sustains our diverse, global community. We stand with our sisters for love, equality, and change.
Our digital Waves archive and bookshelf houses extraordinary Black women's work.  Among them, find t'ai freedom ford's To The Lighthouse Winner book, how to get over.  In partnership with INKPEN, AROHO is donating 40 titles for young student readers. Would you like to help us give more?
To meet the historic surge of the movement together, we dedicate this Waves to elevating Black women's voices and we carry our vow forward by inviting dialogue, sustaining open-access submissions, and robustly publishing diverse voices in WAVES.
To help us donate more books to INKPEN, find the link below. To support these Black women writers and artists, click on their names to find their websites and/or books and art, find them on social media, share them, and purchase their creative work. Don't miss a very special offer at the close.

_______________________________________________________________________
"you ain't seen nothing yet" by t'ai freedom ford
underneath the floor's unforgiving squeak
lives a boy forever
crying
i wonder the shape of his tears: bulbous
diameter of saltwater
how might i measure the radius of his grief?
how many droughts
could
be solved by this unhappy child?
some days i long to braid his tears
into song – other days
i want
to collect the sour milk breath
of each wail
in a mason jar and carry it off
into the world:
show
this lil boy what sadness
is all about.
Having my book enter the world is my proudest accomplishment and I am so very grateful to AROHO for blessing me and countless other women with this opportunity. – t'ai freedom ford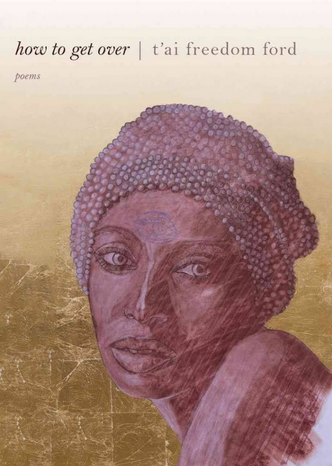 In partnership with INKPEN, AROHO is donating forty copies of how to get over by t'ai freedom ford for young student readers in one classroom (25) and one book club (15) at an under-resourced public-school library in DC.  Join us by making a special purchase of t'ai's book to add to the number of students who receive this powerful, contemporary voice which speaks to their life and culture.   Donate a copy from AROHO's bookshelf here.
_______________________________________________________________________
"I've Got a Reason to be Ego-Trippin' – Ode to Nikki Giovanni" by Ayanna McNeill
Biologically you cannot beat me
My kinky hairs are designed to uphold crowns
My broad back and thick thighs prevent me from going down
My black blood runs freely over centuries
Creating babies and revolutions before sunsets
While you built sandcastles we built pyramids of intellect
Racing around the world and made it back in time to harvest fruits of labor across triangles of watery
graves
Having cornrows braided into our psyches
And still biologically you cannot beat me
Faster than a speeding bullet
You took a lot from us and we still succeed
Called us niggers, devils, and monkeys
Sucked milk from our mothers' breasts and still cannot digest
That we are superior
Called this world an "equal opportunity"
Yet you had to create slavery
Lynching and killing trying to control me
Melanin drenched, the longest time spend
We cultivated long before you caught the drift
Danced when you crawled
Ruled when you roamed
Survived what you couldn't
Created what you didn't
Biologically you cannot beat me
History already told you that
Your women created dresses to resemble the arch in my back
Mentally raped and physically pillared through my abundance of kings
Just to feel the heaven I've always known down in between
You've washed in the Nile
Shot down the Sphinx nose
Captured and sold
And you still know
That if we went two hundred thousand years more
Whatever you tried to be
You still cannot beat me
Ayanna McNeill, "I've Got a Reason to be Ego-Trippin'"
I'm a native Brooklyn-ite. I've been writing and performing poetry for over 15 years. I started writing poetry at the age of 12 and began to perform in HS. I'm the author of Before There Were Guns There Were Gods and currently working on publishing a suspenseful murder fictional trilogy.
_______________________________________________________________________
"Seen" by Shanina Dionna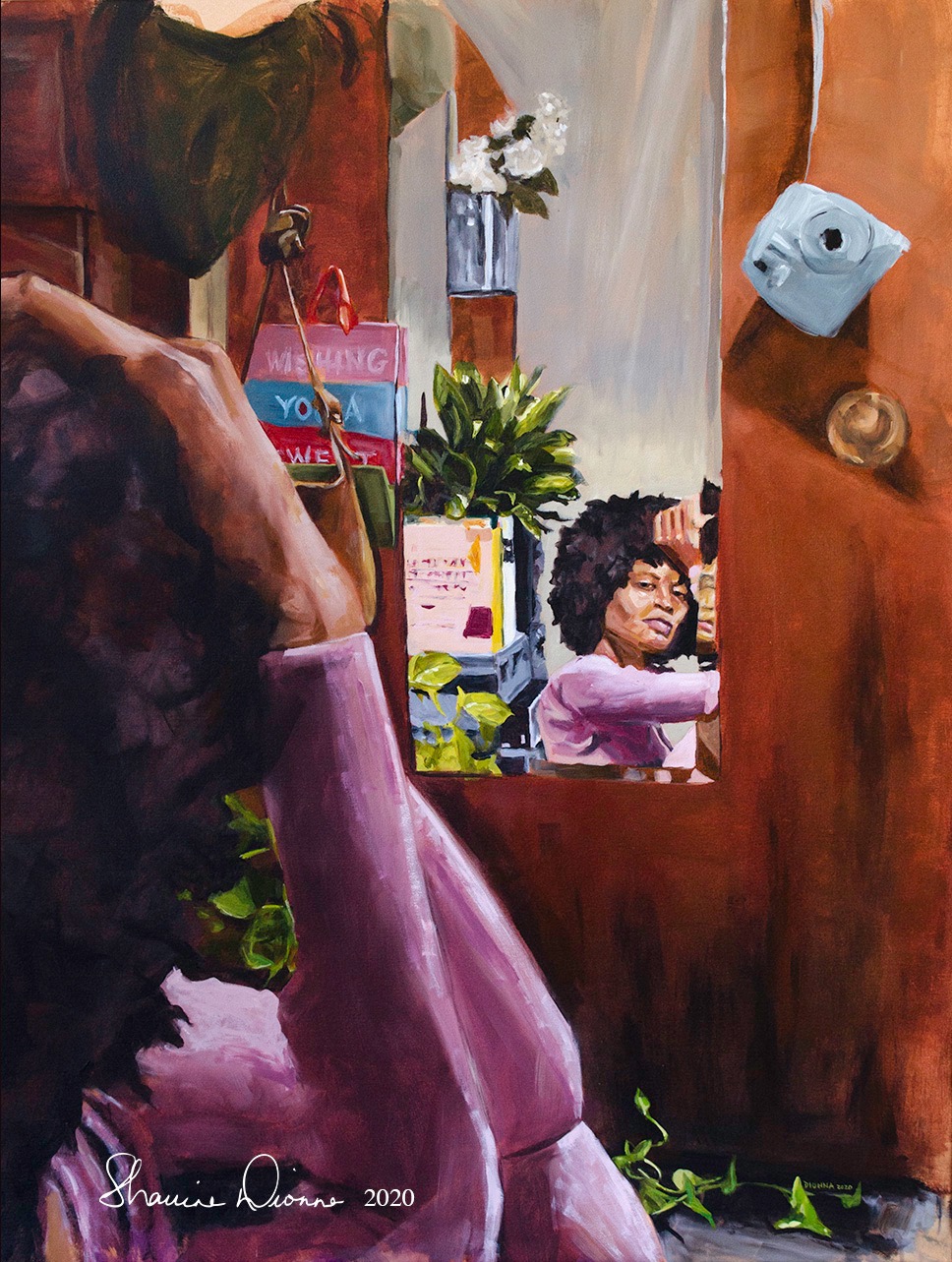 Shanina Dionna, "Seen," 2020. Acrylic on canvas. 50″ x 64″
I am a Black, woman-identifying Artist who seeks to amplify the voices of marginalized communities and destigmatize the mental health conversation. – Shanina Dionna

_______________________________________________________________________
"Last" by Shonda Buchanan
Every now and then my husband asks me
why I always cook with the fire on high.
My fried potatoes and onions firm, sunflower sweet.
My broccoli, burdened still with its original green
and the taste of tilled earth. My water boils,
furiously, delirious with heat.
I look at him.
How could he not know.
The fire is a kind of breath too.
And I am a Black Indian woman who lives close to it.
To flame and ash. To smoldering embers.
     It is all my history now.
To caking steam that kisses air and rises.
Shonda Buchanan, from Who's Afraid of Black Indians?
I am a woman of dual-inheritance and author sharing stories of race, ethnicity, migration, gender and landscape. – Shonda Buchanan

Special offer for the AROHO community:

If you purchase Black Indian here and subscribe to Shonda's newsletter, you will be gifted a copy of Who's Afraid of Black Indians?