"The Daughter Walk" by Sheila Bender
For Kathryne Kent
We live on a circle, our mothers'
houses just to the west of our own.
We carry casseroles to them, newspapers,
print outs of family email, prunes to stew,
brooms to sweep out the corners. Our feet
crunch over their crushed gravel driveways
as the sun rises behind us, sets in front of our eyes.
____________________
Share your response to this work, in any form, here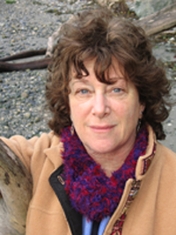 Sheila Bender Artist Statement:
Sheila Bender founded WritingItReal.com in 2002 and has been helping writers make
their writing dreams come true through instructional articles, online workshops and
telephone consults for the last 14 years. Before she was proficient with the Internet,
Sheila published with Writer's Digest Books, Warner Books, McGraw Hill, and Imago
Press, among several other presses. Now, she is venturing into self-publishing new
instructional books and re-issuing some of her earlier books. She finds writing inspiration
in examining her relationships with others and watching the waters of Discovery Bay,
where she lives in Western Washington. After losing her 25-year-old son in a
snowboarding accident, she survived the pain by writing poetry. Her memoir, A New
Theology: Turning to Poetry in a Time of Grief is a narrative about how poetry was the
spiritual practice that helped her learn to live fully again.