"The Ashsong" by Kristi Carter
No fever brings the strange hands to place this bit in my mouth,
it is the cold metal weight on my thin voice that brings me to fever.
The sorrel waved its fleshy leaves at me as my sisters disappeared
over the hill into the holler below. They are not the first to choose silence
over change. Over the chance that an oratorio might burst forth from us
with enough tremolo to hang the notes on a black shiver in mid-air
before their descent into the ears of the men. Before the notes cast a cloud
of fever over those who said they had come to fill us with their white gift of life,
whether or not we might accept it. One of the women runs her hand through the hair
of a son whose father is nowhere. No stag carried him into the horizon streaked
with the residue of old gods, no. He was a nightmare trilling off into the lightning storm
that follows his frail frame—the easier to slip through you. But my sisters forbade me
from singing the battle aria, from marking my cheekbones with the ash of animals
who had eaten from my hands only months before the drought. Do not sing of war,
of death, of the ones who brought us this life we did not ask for.     Do not sing.
Lie down on the still earth, and hear the song already continuing.
Ash Ash.
Bite down on your song lest you bite all our tongues from our mouths.
Ash Ash Ash.              Bite down on the fever of this pale, dry morning
called motherhood.
____________________
Share your response to this work, in any form, here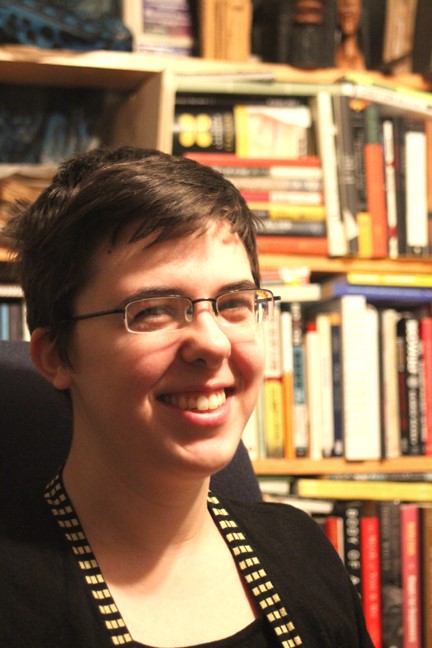 Kristi Carter's Artist Statement:
Kristi Carter is a PhD student in Creative Writing–Poetry with a specialization in Women's and Gender
Studies. Her poems have appeared in publications including So to Speak, poemmemoirstory, CALYX, and
Hawaii Review. Her work examines of the intersection of gender and intergenerational trauma in 20th
Century poetics. She is at work on a collection of poems. She holds an MFA from Oklahoma State
University. Contact Kristi at mkristicarter@gmail.com.