"Terrible Fortune Inside My Head, Grenadine" by Lynne Thompson
inspired by Alison Saar's sculpture "Foundered"
…and my head lies, eternally, on its side, its
one unbound ear cocked to the wind (always
howling, racing away, exposed, expectant)
…and though my head is made of glass, nothing
could be less clear, caked with the dark world's
detritus: bone, tissue, links of chain, centuries
…and if my head is made of glass, it could not
be more clear-cut if only you would look closely:
above my throat, behind both occluded eyes
…if you look, you'll see the ship—its masts time-
worn, ragged—routes unremembered—(could it
be the unnamed slaver that ran aground at Spring?)
…and though my ancestors cannot tell me if its
provenance—its terrible fortune—is false or true,
the ship moans, unmoored, for all that's been lost
…my head sideways to history, my free ear tintin-
abulating old miseries of a terror that scored walls
in Elmina Castle & all the tortured shrieking inside…
____________________
Share your response to this work, in any form, here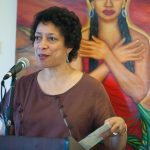 Lynne Thompson is an African American poet, descendent of West Indian parents by
adoption, and of the enslavaed African born in Madagascar. In 2015, she received an
Individual Artists Fellowship from the City of Los Angeles. Her full-length collections include
Beg No Pardon, winner of the Perugia Press Award and the Great Lakes Colleges New Writers
Award, and Start With A Small Guitar. Recent work has appeared or is forthcoming in the
African American Review, Ecotone, Rattle, and the Solstice Literary Journal as well as the
anthology Coiled Serpent, Poets Arising from the Cultural Quakes & Shifts of Los Angeles.
Thompson is Reviews & Essays Editor for the literary journal Spillway.