Tanaya Winder Awarded Spring 2010 Orlando Poetry Prize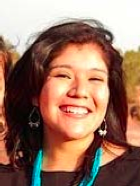 TANAYA WINDER is from the Southern Ute and Duckwater Shoshone Nations and was raised on the Southern Ute Indian Reservation in Ignacio, Colorado. She was a finalist in the 2009 Joy Harjo Poetry Competition and her work is forthcoming in Cutthroat: a journal of the arts' 5th Anniversary Issue and the Spring 2010 issue of Yellow Medicine Review: a journal of Indigenous Literature, Art, and Thought. She currently lives, works, and writes in Colorado.
Read her winning poem, "The Impermanence of Human Sculptures," here.