"Stirring" by M. Nzadi Keita
"Being herself one of the first agents of the Underground Railroad, [mother] was an untiring worker…"
Rosetta Douglass Sprague
By now their breath has thawed; they're drunk on sleep.
A trouser-wearing woman with one hand
just sits. Her mouth stays fixed on calling "Cille"–
her daughter's dead name rubbed to burlap strands.
A boy whose rough low singing charms the room
stands up but loses words to bless the food.
Some stare. Some cradle every taste. Some lean
too near the fire as I stir. One eats the steam.
This choir of beef and beans could harmonize
and banish what they thought would never die.
A bit of food and music is no cure
in truth, but what I cook into this stew
does make these shadows talk. They'll feel their new
selves catch and light; now, watch what black hands do.
____________________
Share your response to this work, in any form, here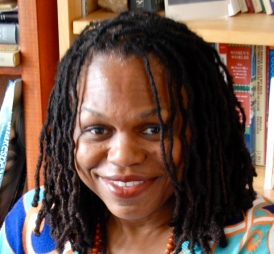 M. Nzadi Keita's Artist Statement: M. Nzadi Keita's collection of persona poems, Brief Evidence of Heaven (Whirlwind Press), sheds light on Anna Murray Douglass, Frederick Douglass's first wife for 44 years. Her journal publications include Crab Orchard Review, Mission at Tenth, American Poetry Review, and anthologies such as A Face to Meet the Faces: An Anthology of Contemporary Persona Poetry, and The Ringing Ear: Black Poets Lean South. Keita has received fellowships from the Leeway Foundation, the Fine Arts Work Center, and the Pennsylvania Council on the Arts. After stints as a data entry clerk, a security guard, a freelance journalist, and a community health educator, Keita is now an associate professor at Ursinus College, teaching creative writing, American literature, and Africana Studies.