"Stef's Request" by Abigail Licad
The night before the surgery she hands me her Nikon
and asks me to photograph her naked hips and thighs —
the only parts of her body left unscarred by the accident.
In a trailer transporting horses from her mother's farm, her beautiful
twenty-two year-old body snatched by the collision's conflagration,
third-degree burns across seventy-percent of her skin, a permanent redness,
part of her left ear lost, a slight limp, and bluer eyes.
And now, ten years later, unable to turn her head to meet the face
of a friend who calls her name or look up toward the sky,
she faces the scalpel-edge again to trade pain for pain:
plant skin grafts from her body's unburned parts,
new striae of tissue to soften the leather below her jaw.
I try to get out of it — the nakedness
behind the nakedness, as I chased long-winded excuses
in my head, raised to believe in the female body shared sparingly
and in suffering silenced into prayer.
Who owns the body? Does sharing relinquish
or reinforce its ownership? Choose — I tell myself.
Relinquish, I decide.
But her blue eyes search until I reluctantly accept the camera
and ready it as she undresses. As her hand trembles, my cowardice
falls away like the silken drift of her robe to the floor. Silently, she begins
to pose. On her stomach. On her side. Crosses and un-crosses her legs.
Standing, she pushes against the wall. Arches her back.
Extends her long limbs. Thrusts her body toward the lens.
I map the contours of her flesh, the question mark of her sinuous
back's profile, the meetings of inner folds her future husband's tongue
would trace. Into the night, we work like witnesses bearing testimony,
before the carving of freshly hewn grooves onto her body's new geography,
which up close appear as a sky-view pictorial of mountain peaks and desert.
____________________
Share your response to this work, in any form, here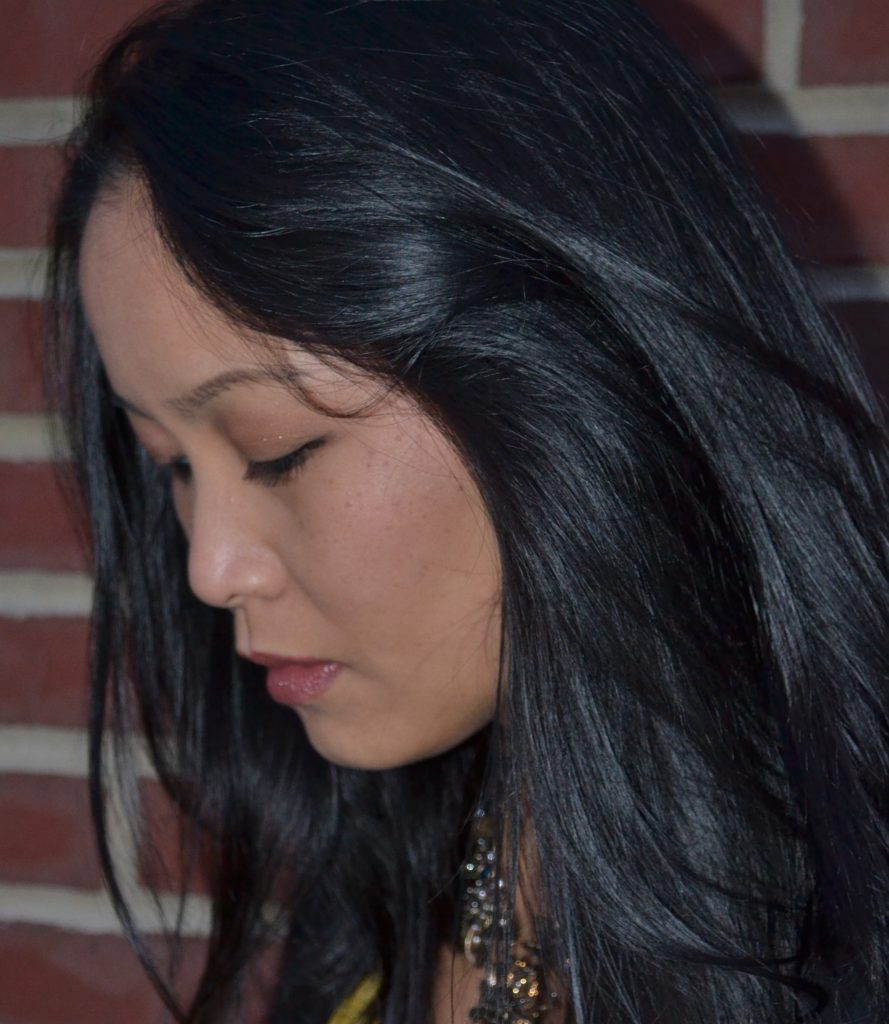 Abigail Licad Artist Statement: 
Abigail Licad is a 1.5-generation Filipino American who immigrated to the U.S. with her family
at age 13. She received her B.A. from University of California-Berkeley and her M.Phil in
literature from Oxford University. Her work has been published in Calyx, Smartish Pace, The
Critical Flame, and Los Angeles Times, among others. She has served as a Rotary International
Ambassadorial Scholar to Senegal and as Hyphen magazine's editor in chief. She lives and works
in the San Francisco Bay Area.