"Spear Maiden to Persephone" by Geri Lipschultz
All superheroes are violent, so do not marry one, but all who are not superheroes are also violent. A discovery made by one of the female explorers.
Empty pages, my life has been that for a while. I've stepped into someone else's book. I've skated on their pages. I've relinquished my religion and my height. I've given up my hair for a good cause. They must pulverize, snip off the tips of my daughter's fingers. This will make the bees sing again. Birds will flutter at our windows again. Cicadas will stop preparing for war.
Just a small sacrifice, and the snow falls on the buds of the magnolia, what is left after the great storm. The land has sued the sky for divorce. We walked on the side of the roads, trying not to look at the torn fences, trees fallen. A dry earth, the biologist said, that longs for its herds. We must eat the animals, round them up according to schedule. Tie them to a hook in the earth's core, where the elders lie.
Her fingertips have grown back. Even the whorls. Her little ridges. I lick them, watched by the cat, whose very tongue is a ridge. His eyes like those of owls. He curls around my daughter's fingers and stares.
How a daughter came to this world, I will tell you. I don't have the permit, so do not repeat what I say. I caught her, wrestled with a squirrel for her. He was atop the maple, chewing buds, and she was up there, as well, had climbed up to see the world. She didn't want to come down. I thought to send my cat, but he lives indoors. His purrs inflate the house. I didn't want to come home to a sinkhole, didn't want the house to lose its balance, to tip.
My fingers bleeding, my tongue full of blood. My eyes dry for the collection of tears that I gave to the Jehovah's Witnesses. Yes, you can have them, I said. You have lovely wool that was last seen on a drove of sheep. Dolly gave up her coat, and I gave up my tears.
It's a long story but must remain short. Otherwise, court-martial. Otherwise, prison. Otherwise, the degree stays in the file, and the file will be deleted. I will have to be observed. I will have to show my registration. A small box of index cards with the information written by hand. A relic of my twenty years of labor, for which I was paid a teaspoon of sugar. It adds up. My daughter will tell you. I will send her out into the world with all her whorls reborn, on a berth of roses, her rosette of gardenia, her garden of Eden, her evening posies. Wave goodbye and smile.
I buried a blade under her arm. It's a virgin knife, passed down, like the Bible we all carried down the aisle.
Previously published in Up, Do Anthology (Spider Road Press, ed. Patricia Flaherty Pagan)
____________________
Share your response to this work, in any form, here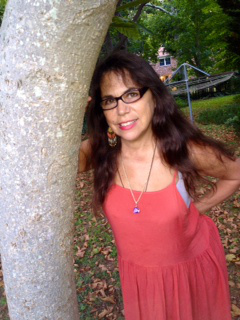 Geri Lipschultz Artist Statement:
I have an MFA in fiction from the Iowa Writers' Workshop, as well as Ph.D. from
Ohio University. Current writing appears in International Journal of Transpersonal
Studies, The Manifest-­‐Station, The Toast, Helen Literary Journal, NonBinary Review,
5X5, and Fredericksburg Literary Review. Various stories have been published in the
New York Times, College English, Kalliope, Black Warrior Review, among others. I
have an essay in Cheryl and Eric Olsen's Best Books By the Bed. In addition, I have
both a story and a poem included in Pearson's most current edition of their college
anthology, Literature: Introduction to Reading and Writing, as well as a story in
Spuyten Duyvil's The Wreckage of Reason II. Another story of mine, the piece I've
selected to send to you, "Spear Maiden to Persephone" is among those in Up, Do
Anthology (Spider Road Press, ed. Patricia Flaherty Pagan). My novel was a finalist
for New Rivers Press ebooks and the Eludia Award. My chapbooks have been listed as
finalists for Gertrude Press and for Iron Horse Literary Review. I was awarded a
Creative Artists in Public Service (CAPS) grant from New York State, and a story of
mine won the fiction 2012 award from So to Speak: a feminist journal of language
and art. My one-­‐woman show (titled Once Upon the Present Time-­‐-­‐performance
poetry) was produced in NYC by Woodie King, Jr. I am also one of the bloggers on
the wewantedtobewriters.com site.