"Saint Flower" by Ann L. Carter
Zinnias are like some special kind of saint
smiling in the face of my transgressions.
They forgive me when I don't water them
though the Kansas sun beats down like hell.
They accept it when I uproot them
to some godforsaken spot I need to brighten.
They keep face when I cut them down in full bloom
and let them slowly wilt on my sunroom table
while the cat nibbles at them
and the vase water begins to smell.
They even seem to nod their approval
as the compost pile becomes their final resting ground.
I see some now
from the front porch swing.
They are cheering a spot
in a made-over bed,
their yellow, orange and red petals
barely faded
by dust from the road
and I have little to offer back
save the salvation they give me
on this late July afternoon.
____________________
Share your response to this work, in any form, here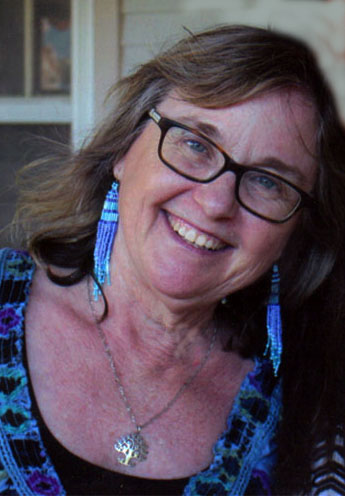 Ann Carter lives on a small farm in the Flint Hills of north central Kansas. Her first (and hopefully not last) book, Spiders from Heaven, recounts through journal entries, emails, and poetry the adoption and single parenting of her two daughters. Her favorite writing exercise is blogging a monthly essay. Among many possible future projects, she wants to finish a children's book featuring Frannie, a girl who dreams of riding a pinto pony across the prairie while rescuing animals in distress. Ann has loved to make art since she was a small child and currently does encaustic bird images. Encaustic because she attended a workshop to learn about it and,
after much frustration, decided it was fun. Birds because she believes these small courageous creatures bring messages of grace. To see more about her art and book, read her blog, and watch a short documentary about her family, visit annlcarter.com.