"Rapunzel Brings Her Women's Studies Class to the Tower" by Susan J. Erickson
The setup looked so innocent. Like a rustic
LEGO estate. Before you ask, the ivy escape route
now clambering up the walls was tended
by an apprentice of Edward Scissorhands.
The Government was reclaiming this tract
for a planned wilderness. It was so quiet
I could hear my hair grow. Occasionally
a crazed scientist would wander by, eyes
to the ground, mapping endangered four-leaf clover.
I was endangered too, but had signed on to relinquish
the rib of victimhood. I thought life could be arranged
so only my favorite pineapple LifeSavers came up
in the assorted roll. One sleeve at a time, I slipped
out of my coat sewn from sackcloth and shadows
to wear the skin of solitude.
Each day I recited that line from Rilke:
Let this darkness be a bell tower and you the bell.
When I came down from the tower, the media wanted
a country western song. Everyone would hum,
wipe away a tear, then sing aloud the verse
where Wrong crashes its vintage pickup. Instead,
I uncoiled my crown of braids, cut the ties and loosened
the strands that held my story captive. Every day
new towers of darkness rise. Do I need to say
your voices are searchlights that can sweep the horizon
to reveal fault lines and illuminate passage?
Originally published in Sweet Tree Review
____________________
Share your response to this work, in any form, here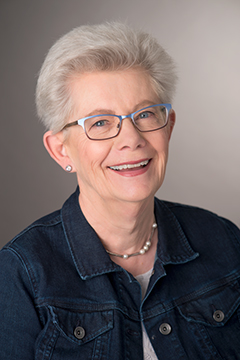 Susan J. Erickson Artist Statement:
In 2017 my first full-length book of poetry "Lauren Bacall Shares a
Limousine" was published by Brick Road Poetry Press. It is a book of
poems in women's voices.
There is an Emily Dickinson poem that reads, "If your Nerve, deny you–
/Go above your Nerve–". I think of this book as telling the story of
women who went above their nerve. I wanted to understand their
contributions, pay homage to them and maybe dramatize how each of
us can go above nerve.
I came late to poetry and was 77 when the book was released. I hope
my story encourages older women to pursue their creative talents.