"Quiet 1 With Eyes" by M. Nzadi Keita
with eyes
My husband oversees the world up front 
where all the parlor-talk 
is Congress and North Star and Harper's 
and what they Know is only what 
they Read.  When I pass, The Readers 
squint into my mouth.  
with eyes 
that you could use to sharpen something.  
I watch him worry.  watch 
him when I raise my brow
watch his eyes burn off 
my work scarf       watch him whittle me 
with the corner of his mouth
and blush as I go
up front 
I am a curiosity.     smoke. 
hail, squawking.    a twisted 
sound out of place. like a goat 
in the library.  like a hammer 
in a keyhole. like a riverbank 
giving birth to a woman.
come where it is quiet   come
through my house, to the back 
where no one is afraid
of what I say.
out back in the garden 
what I am teaching myself –
(the wild letters
 I mark down with a stick)
don't concern the Parlor. 
 I stand at the door, black 
flesh of little use to them. 
Nothing here to buy. to Know. Nothing 
here for barter. for bluster. Debate. They 
have what they need.  they have eaten. 
____________________
Share your response to this work, in any form, here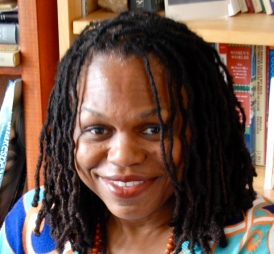 M. Nzadi Keita's Artist Statement: M. Nzadi Keita's collection of persona poems, Brief Evidence of Heaven (Whirlwind Press), sheds light on Anna Murray Douglass, Frederick Douglass's first wife for 44 years. Her journal publications include Crab Orchard Review, Mission at Tenth, American Poetry Review, and anthologies such as A Face to Meet the Faces: An Anthology of Contemporary Persona Poetry, and The Ringing Ear: Black Poets Lean South. Keita has received fellowships from the Leeway Foundation, the Fine Arts Work Center, and the Pennsylvania Council on the Arts. After stints as a data entry clerk, a security guard, a freelance journalist, and a community health educator, Keita is now an associate professor at Ursinus College, teaching creative writing, American literature, and Africana Studies.