"Power" by Susan Eisenberg
While her classmates cut in panels, bent pipe,
worked from blueprints, the black girl
ran for coffee, rustled stock, drilled
ceiling anchors by the mile, and swept
the shanty out; often worked alone. So,
when she was paired with a crackerjack
mechanic, a brother, and the foreman asked
how they'd like to disconnect
a transformer, high voltage, placing the cutters
in her palms, she leapt
like a racehorse out the starting gate.
The white boss walked them over to where the end
of cable lay in flaccid loop. Lifted it to show
the circle of fresh-cut copper, round
and wide-eyed as a shiny dollar coin: proof
power was dead. She was fired up.
But Omar, bless that man, had to teach.
They walked the length of the site
and back, retrieved his meter, as he explained
good practice: test equipment, take no one's word.
The meter buzzed: 480 live.
The two looked down; saw wet mud
beneath their boots. Looked up:
white faces –– like in a postcard
from a lynching –– gathered
on the ledge above
to watch.
____________________
Share your response to this work, in any form, here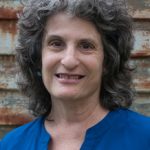 Susan Eisenberg Artist Statement: 
Susan Eisenberg is a poet, visual artist, oral historian, and licensed electrician who works within
and across genres. Her fourth poetry book, Perpetual Care (2016), combines poems with fine art
photographs to explore chronic illness. Among the first women in the country to complete a
union electrical apprenticeship, she speaks and writes widely about employment equity and
what it would mean to be treated "On Equal Terms", the title of her mixed-media art
installation. Her nonfiction book, We'll Call You If We Need You: Experiences of Women Working
Construction, was a New York Times Notable Book. A graduate of the MFA Program for Writers at
Warren Wilson College, she taught creative writing for a decade at the University of
Massachusetts Boston. She is a Resident Artist/Scholar at Brandeis University's Women's
Studies Research Center and the University of Michigan 2016–2017 Twink Frey Visiting Social