Patricia Henritze Awarded Fall 2009 Nonfiction Orlando Prize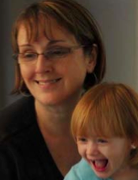 PATRICIA HENRITZE is a writer and theater artist whose collaborations have taken her from Atlanta to Chicago to Budapest. She has received grants from Theater Communications Group, Fulton County Arts Council and Poets&Writers, Inc. Currently, Patricia is Artist-in-Residence at Gardenhouse Dance, teaches theater at Clayton State University and is a member of Working Title Playwrights.
Read her winning essay, "Learning to Talk," here.