"On Shawano Lake" by Lora Keller
I wrap an orange life jacket around my shoulders
like a crusty stole. You thread the loose canvas tie
through the two silver rings at my waist
and tug it tight, twice. It's my turn,
my one time all year to be alone with you.
Your sons are still asleep and jealous.
Your other daughter is afraid of worms.
Our Evinrude fractures the quiet morning
and soon we stop at the edge of a lily pad acre.
We float and lure perch from their liquid field.
I imagine a stroll across the smooth green,
swaying carpet, sunfish darting
beneath my navy blue Keds, through their foggy
jungle of shimmying stems. Your reel hums
and clicks. I flounder for the perfect question
that would open you to me.
A loon cry echoes. Water softly rubs the aluminum
dinghy. You cast your line again. The black lead weight
arcs through the dark, dawn sky and steers the sheer
fishing line to the pike's cool, still lair. At your feet,
a rusted tackle box sparkles with your arsenal –
minnows, spinners, spoons. I wait for a splash
of golden tail, any glance from you,
even a call to pull anchor.
Your cigar seasons the lake air. I watch the bobber
at the end of my bamboo pole — the red half
submerged, the white half lifted, alert
to all nibbles.
____________________
Share your response to this work, in any form, here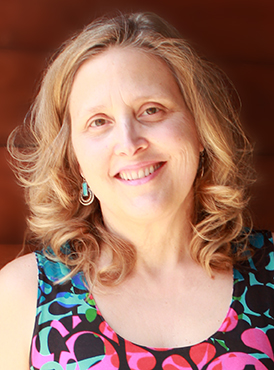 Lora Keller's Artist Statement: A typewriter was my favorite toy when I was 10 years old. Every chance I got, I cultivated my alter egos: writer vs business woman. I typed poems and invoices, plays and inventories. And, at nearly 60 years old, I'm still enthralled by the way those competing interests conflict and converge in my adult life. After earning a creative writing degree, I was a scriptwriter, public relations executive and educator in Milwaukee, New York and Kansas City. Now when I'm not writing poetry, I own and run two small, Milwaukee businesses. In the last few years, dozens of my poems have been published in literary media including Blast Furnace, Lantern Journal, Literary Mama, Midwest Prairie Review, Midwest Quarterly, NPR's Tell Me More blog, Poised In Flight, Red River Review, Reed Magazine and Xanadu.