Malene Bell Awarded Fall 2010 Orlando Flash Fiction Prize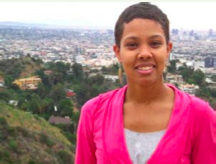 MALENE KAI BELL, Founder of American Heroine Sessions, is a writer, poet, mother, and activist. She earned a B.A. from Morgan State University and M.A. in Writing from The Johns Hopkins University. Her work has appeared in Penn Union, Mosaic Literary Magazine, The Baltimore Review, Radar, 13th Moon, and Urbanite Magazine. She is Assistant Editor of The Infinite Field Magazine as well as a lecturer at Morgan State University. To stay centered, Malene practices yoga, meditation, and throws the occasional tantrum—high pitched screams and all. She is currently working on a memoir, entitled Medusa Underwater.
Malene's winning flash fiction story, "Mouth," was published in Issue No. 9 of the Los Angeles Review.