"Lupus Outwits Me, Declares Martial Law" by Susan Eisenberg
Who would dream to awaken from fevered sleep
stun-gunned into paralysis by their own
ruthless doppelganger:
power stations overtaken in a pre-dawn coup;
from every organ of the body
a triumphant, unfamiliar flag!
Who wouldn't be humbled
by their double's brazen brilliance? Or,
begin at once to plot in whispers
the first frantic steps of resistance?
____________________
Share your response to this work, in any form, here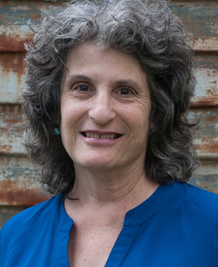 Susan Eisenberg Artist Statement: I have been diagnosed with lupus—an auto-immune disease where the body can attack its own organs—that primarily affects women and, more frequently and severely, targets women of color. As someone who has often thought about ways I sometimes undermine myself, the diagnosis of auto-immune disease was especially startling.
Susan Eisenberg is a poet, visual artist, oral historian, and licensed electrician who works within
and across genres. Her fourth poetry book, Perpetual Care (2016), combines poems with fine art
photographs to explore chronic illness. Among the first women in the country to complete a
union electrical apprenticeship, she speaks and writes widely about employment equity and
what it would mean to be treated "On Equal Terms", the title of her mixed-media art
installation. Her nonfiction book, We'll Call You If We Need You: Experiences of Women Working
Construction, was a New York Times Notable Book. A graduate of the MFA Program for Writers at
Warren Wilson College, she taught creative writing for a decade at the University of
Massachusetts Boston. She is a Resident Artist/Scholar at Brandeis University's Women's
Studies Research Center and the University of Michigan 2016–2017 Twink Frey Visiting Social
Activist.