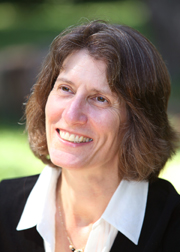 When I was growing up in North Carolina, summers were hot and busy with work of all kinds. Mid-July meant somebody from a nearby farm would bring us a bushel or more of butterbeans, and we'd shell until our fingers were yellow, filling large pans then putting up pints and quarts for winter. Butterbeans were beautiful to look at, in their waxy light green delicate skins, but when cooked, they were dull, mushy, pulpy things that tasted like—well, beans.
I quickly learned that what beans I couldn't slip under the table to my sister, who loved them, I could stir into my mashed potatoes. My grandmother's mashed potatoes were cumulus clouds fallen from heaven. She'd mash them by hand with real butter and whole milk and scoop them onto my plate in a huge, steamy mound. Butterbeans mixed into them disappeared, the mushy, disgusting taste overwhelmed by the rich, buttery, melt-in-your-mouth potatoes. I could eat butterbeans this way all day.
Today food psychologists call mashed potatoes "comfort food." They're in that category with ice cream, meat loaf, and dark chocolate, foods that take the edge off of any hard day.  The Gift of Freedom grant requires mashed potatoes. It's tedious work. It has more questions on it than any grant application I've ever seen, and they're hard questions, thoughtful questions requiring thoughtful responses. So, here's my advice: dollop up a big scoop of mashed potatoes (or ice cream or chocolate or a long, soaky bath, whatever is your comfort) and go. Take one Roman numeral, one letter, one essay at a time. Savor each one. Don't rush it. Let it linger in your mouth while you enjoy the full rich taste of it.  Wash it down with a big glass of sweet iced tea. Let it digest before going on to the next.
When you're finished—your plate clean, your grant application mailed, your belly full and happy—go sit on the porch and watch the sun flit and flutter around the soft red petals of earth.
Barbara Presnell is a native of North Carolina and the author of 4 books of poetry, most recently Piece Work, which won the 2006 Cleveland State University Poetry Center First Book Prize. She received a North Carolina Arts Council Fellowship in Writing in 2001-02 and in 2007-08. She teaches writing at the University of North Carolina at Charlotte.