Kristen Wolf: Orlando Flash Fiction Judge
"What is one resource you wish more women writers had or knew about?"

Confidence.—Kristen Wolf
AROHO is pleased to announce author Kristen Wolf as the finalist Flash Fiction judge for the Fall 2014 Orlando Prizes. We asked Kristen about the values and concerns of historical fiction and for her tips and advice on the writing life: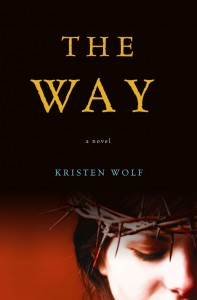 AROHO: In The Way, you use fiction as a porthole into a re-imagined 1st Century Palestine. Can you talk about the advantages or disadvantages of fiction when it comes to exploring history, religion, and/or gender dynamics?
KRISTEN: One of the dangers of re-imagining history is that it puts you in the position of tampering with masterpieces. In this case, I used the Bible's New Testament as a jumping off place. And whether or not you agree with the Bible's content, or believe it to be historical or mythological, it's impossible to deny its significance as a literary work. It's also impossible to deny the impact of its characters on people the world over. I think one possible disadvantage is becoming intimidated by the greatness of the history you're reworking. I was certainly mindful of the quality of the stories and characters I was tampering with. Fortunately for me, I was able to overcome this intimidation by realizing that myths must always be reworked and refreshed in order to have their magical and inspiring effect. But it was rough in the beginning. That I do remember.
AROHO: Do you have any activities that jump-start your creativity when the well is running dry?
KRISTEN: Long walks. Listening to music. Reading poetry. Reading the latest science news and learning about our most recent discoveries.
AROHO: What is one resource you wish more women writers had or knew about?
KRISTEN: Confidence.
AROHO: Is there anything you hope to discover in the Orlando flash fiction submissions?
KRISTEN: People whose stories shift the paradigms. Push the boundaries of what's known and accepted. I love writing that makes me see things in a whole new light.

KRISTEN WOLF is a writer and mother living in the Rocky Mountains. She is a Phi Beta Kappa graduate of Georgetown University and holds an M.A. in creative writing and film from Hollins College where she was awarded a full scholarship. As a child, Kristen grew up in a heavily forested suburb outside New York City with her parents, a younger brother, and an ever-changing menagerie of pet animals. Both Kristen's parents and grandparents passed onto her an avid love and respect for nature — which explains the photos of her posing with an ever-widening array of pets, including cats, dogs, guinea pigs, mice, quail, two raccoons, chickens, even a squirrel that lived in her bedroom! Needless to say, hers wasn't the average American family. Kristen credits her unique childhood for providing her with keen powers of observation, a passion for living things, unlimited curiosity, and a strong independent streak.
Kristen recently completed a second novel (publication date TBD) and is at work on a third book project. The Way is her first novel. You can learn more about Kristen and her work at https://www.kristenwolf.com/.
The deadline for submitting to the Fall Orlando Prizes is July 31st, 2014.