Kathline Carr, writer and visual artist, earned her BFA in Creative Writing with concentrations in visual art and feminist philosophy from Goddard College, VT and holds an MFA in Visual Arts from The Art Institute of Boston. Her writing/art has appeared in Calyx, Earth's Daughters, Hawaii Review, CT Review, Alexandria Quarterly and elsewhere; recently, she has exhibited in the Berkshires, NYC, Boston, Toronto, and artSTRAND Gallery in Provincetown, Massachusetts. Carr lives in North Adams, Massachusetts with her husband and sometimes-collaborator, figurative painter Jim Peters, and her daughter Mercedes.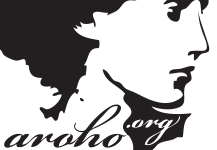 Finalist Judge Kate Gale writes: 
If we look inside ourselves we might find we're dirty, restless, scared, a bit rotten. What if we brought all that monster out into the open, misshapen as a child's play sand castle and started stacking story pieces there, disturbing the layers where we'd been colonized and making a new story that could bear up under sunlight. We don't have to be crazy. Or maybe we can be crazy and still be outside. This is the quaking beauty of 'Miraculum Monstrum.'

AROHO loves big aching stories that start inside the woman, move out into the community where bits of the story crackle off and meet the sky.  This book with its marriage of art and soul is everything we ever dreamed of in a Dalloway winner.  It is big life stained on paper.
Special congratulations also to Finalist Jennifer Natalya Fink, for her manuscript, "Bhopal Dance," to Finalist Julie Schlack, for her manuscript, "This All-at-Onceness: Linked Essays," to Finalist Carol Spaulding, for her manuscript, "Navelencia: 1910," and to the two-hundred and thirty-two authors whose top-notch manuscripts we had the pleasure of reviewing.