Katherine Van Dis Awarded Spring 2013 Orlando Short Fiction Prize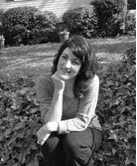 KATHERINE VAN DIS lives in Durham, North Carolina with her husband and three-year-old son. She is a high school creative writing teacher and has also worked with writers in community centers and prisons. Though Katherine has lived in North Carolina for more than ten years, her roots are in Michigan, where many of her stories take place. She attended the University of Michigan where she received a Hopwood Award for fiction. She is currently working on a collection of short stories. "Our Lady of Sorrows" is the title story of that collection.
Katherine's winning story, "Our Lady of Sorrows," was published in Issue No. 14 of the Los Angeles Review.