Kate Angus Awarded Spring 2014 Orlando Creative Nonfiction Prize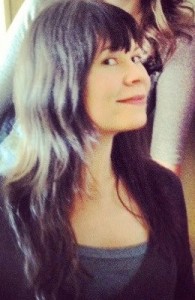 I'm always so grateful when anything I write finds a home. It reminds me that I'm not just speaking to myself–that someone, even if I never meet them, is listening. That sense of being heard–that my work now has a life outside of just my brain and a folder on my desktop–lets me separate enough from the piece to start working on something new. 
Kate Angus
Congratulations to Kate on the selection of her essay, "What you aren't allowed to say," for the Spring 2014 Orlando Creative Nonfiction Prize!  Her essay is a beautiful exploration of womanhood, sexuality, and the power of knowing that we have everything we need already within us.
Kate's winning essay, "What you aren't allowed to say," will be published in Issue No. 16 of the Los Angeles Review.
We asked Kate to talk about her essay and to tell us what publication means to her:
My piece is essentially about how much power things accrue by being kept secret, particularly the things we feel shame about–it's as if that silence turns us back into terrified children who mistake shadows in the corner of the room for monsters. When, in my late twenties, I felt comfortable enough with myself that I finally started enjoying my sexuality, I remember thinking that the previous disconnect wasn't nearly as painful as how ashamed of it I'd been and how isolated I'd felt by not telling anyone.
Kate Angus is a founding editor of Augury Books and the Creative Writing Advisory Board Member for The Mayapple Center for Arts and Humanities. Her work has previously appeared on The Awl, The Hairpin, The Rumpus and Verse Daily, and in Court Green, Indiana Review, Subtropics, Gulf Coast and Best New Poets 2010.