"Kantan Tasi, Song of the Sea" by Mary Therese Perez Hattori
EKUNGOK
LISTEN
to kantan tåsi
the song of the sea
mañaina, in sotto voce murmurs
send wisdom in sea foam
power atop waves that embrace the shore
salty sea spray kisses across my face
EKUNGOK
LISTEN
Minetgot, Guinaiya, Lina'la
Strength, Love, Life
Minetgot, Guinaiya, Lina'la
Strength, Love, Life
delivered by ocean currents
umbilical arteries nurturing me
as the Song of the Sea
echoes the sound of my coursing blood
EKUNGOK
LISTEN
________________________________
ekungok: listen
mañaina: elders
____________________
Share your response to this work, in any form, here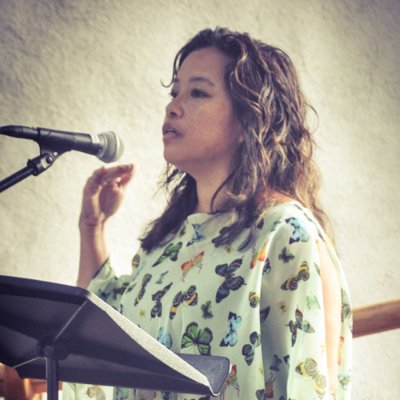 Mary Therese Perez Hattori's Artist Statement:
Mary Therese Perez Hattori is a native Chamoru of the island of Guåhan (Guam). She is one of nine children
of Paul Mitsuo Hattori and Fermina Leon Guerrero Perez Hattori (familian Titang) and resides in Hawai'i. She
currently serves as Outreach Director for the Center for Pacific Islands Studies at the University of Hawai'i at
Manoa. She holds a B.Ed. and Professional Diploma in Secondary Social Studies, a M.Ed. in Educational
Technology, and an EdD in Professional Educational Practice from the University of Hawai'i. She also serves
other graduate programs at the University as Cooperating Faculty for the Doctorate in Professional
Education Practice, Affiliate Faculty for the Indigenous Politics Program, and a Lecturer for the
Certificate in Online Learning & Teaching. Her academic interests include Culturally Responsive
Education & Leadership, Indigenous Research Methodologies, Designing Effective Distance Learning
Environments, Digital Leadership and Digital Wisdom.