Joni B. Cole: Orlando Flash Fiction Judge
AROHO is pleased to announce author and writing instructor Joni B. Cole  as the finalist Flash Fiction judge for the Spring 2015 Orlando Prizes.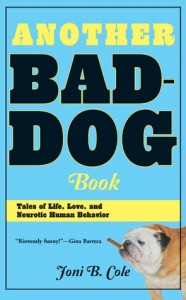 Joni B. Cole's most recent book is a collection of essays, Another Bad-Dog Book: Tales of Life, Love, and Neurotic Human Behavior. (Every page of Another Bad-Dog Book offers riotously funny and outrageously honest observations without sacrificing either Cole's fiercely intelligent insights or the lyrical brilliance of her beautiful writing.") She is also the author of Toxic Feedback: Helping Writers Survive and Thrive ("strongly recommended" for students, teachers and workshops, Library Journal); and the creator of the acclaimed "This Day" book series, including Water Cooler Diaries: Women across America Share Their Day at Work ("both fascinating and eye-opening," Publisher's Weekly). Nominated for a 2011 Pushcart Prize, Joni is the founder of the Writer's Center of White River Junction, Vermont, and teaches at workshops and conferences around the country. For more information, visit jonicole.com, or email her at jonibethcole@gmail.com.
The deadline for submitting to the Spring Orlando Prizes is January 31st, 2015.