Jennifer Ruden Awarded Spring 2010 Orlando Nonfiction Prize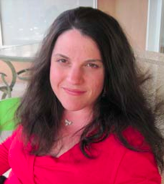 JENNIFER RUDEN received her MFA in creative writing from University of Oregon, and volunteered for a one year term with AmeriCorps in New Mexico where she still resides with her husband and two children ten years later. When not teaching literacy skills to disadvantaged youth, you can find Jennifer holed up in some secret place writing. Her stories and essays have appeared in Puerto del Sol, Literary Mama, Amarillo Bay, Mamazina, Word Riot, and The Motherhood Muse. She is currently revising her first novel, Leaving Utopia, aimed at the Young Adult reader. You can reach her at jenruden@gmail.com.
Read Jennifer's winning essay, "A Redhead Brunette and Blonde: My Muse was a Bird," here.