Jen Silverman Awarded Spring 2011 Orlando Nonfiction Prize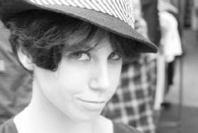 Born in the US, JEN SILVERMAN was raised in America, Europe and Asia. She received her BA from Brown University and her MFA in Playwriting from the Iowa Playwrights Workshop. Her plays have been developed or produced in New York, San Francisco, New Mexico, Washington (both DC and state), Iowa, Rhode Island and LA, and her short play "The Education of Macoloco" was the 2009 winner of the Samuel French Off-Off Broadway Play Festival and was published by Samuel French. Her story "Blood Winter" was published in The Ledge Poetry & Fiction Magazine, Vol. No. 32.
She was the recipient of the 2010 Stanley International Fellowship to conduct research in Japan for her new play, and is an invited participant in the 2011 Chinese-American Writers Exchange through the International Writers Program in Iowa. She was a 2009 resident at the Hedgebrook International Writers' Residency, and is currently working on a book of stories set in Tokyo and a trilogy of plays set in Albuquerque.
Jen's winning essay, "Six Bright Horses and the Land of the Dead," was published in Issue No. 10 of the Los Angeles Review.