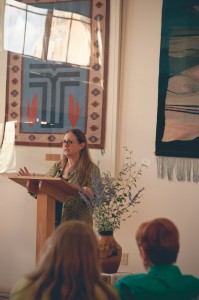 Janet Fitch
is most famously known as the author of the Oprah's Book Club novel 
White Oleander
, which became a film in 2002. She is a graduate of Reed College, located in Portland, Oregon. As an undergraduate at Reed College, Fitch had decided to become an historian… But when she won a student exchange to Keele University in England, where her passion for Russian history led her, she awoke in the middle of the night on her twenty-first birthday with the revelation she wanted to write fiction. Janet Fitch is a faculty member in the Master of Professional Writing Program at the University of Southern California, where she teaches fiction. Her third novel, 
Paint It Black
, named after the Rolling Stones song of the same name, was published in September 2006. The movie version is in the works. She is currently working on her latest novel, which is due next Spring. Visit Janet's blog
here
. Read Oprah's interview with Janet Fitch
here
.
Featured Speaker; Small Group Facilitator.