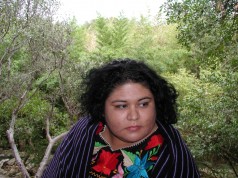 Fiction Genre Finalist Ire'ne Lara Silva's work speaks for those on the margins.  Her fierce, primal voice stands at the intersection of poetry and prose, and is concerned with the question of transformation:  how do you find the way through pain, grief, and loss on an individual and communal level?
She writes of her Gift of Freedom creative project plan: I'm working on two creative projects: my first novel, NACI, and a second short story collection, Song of the Burning Woman. NACI is set in the Rio Grande Valley of South Texas, the three south-most Texas counties along the Texas-Mexico border leading to the Gulf of Mexico The border as a site of conflict and reconciliation are manifested in the body and life experiences of the title character, Naci, a hermaphrodite.  Song of the Burning Woman is a collection of short stories exploring the intersections of grief, loss, healing, and sexuality. These and other stories emphasize the links between our bodies, our emotions, and our lives.
2008 recipient of the Gloria Anzaldua Milagro Award, a Macondo member, and 2010 Cantomundo Inaugural Fellow, she and Moises S. L. Lara are co-coordinators for the Flor De Nopal Literary Festival.  Ire'ne Lara Silva is the author of two chapbooks: ani'mal and INDíGENA. Her first collection of poetry, furia, was published by Mouthfeel Press in October 2010 and received an Honorable Mention for the 2011 International Latino Book Award in Poetry. Her first collection of short stories, flesh to bone, will be published by Aunt Lute Press in 2013.
Living in Austin, Texas, Silva does and doesn't write about her life as a 38 year old, round, diabetic, caregiver, 15-year government clerk, college dropout, former migrant student, daughter of illiterate parents, childless, single, mostly lesbian, indigenous Mexican American woman of color—because everything begins and ends with a story.