"Inheritance" by Sarah Deckro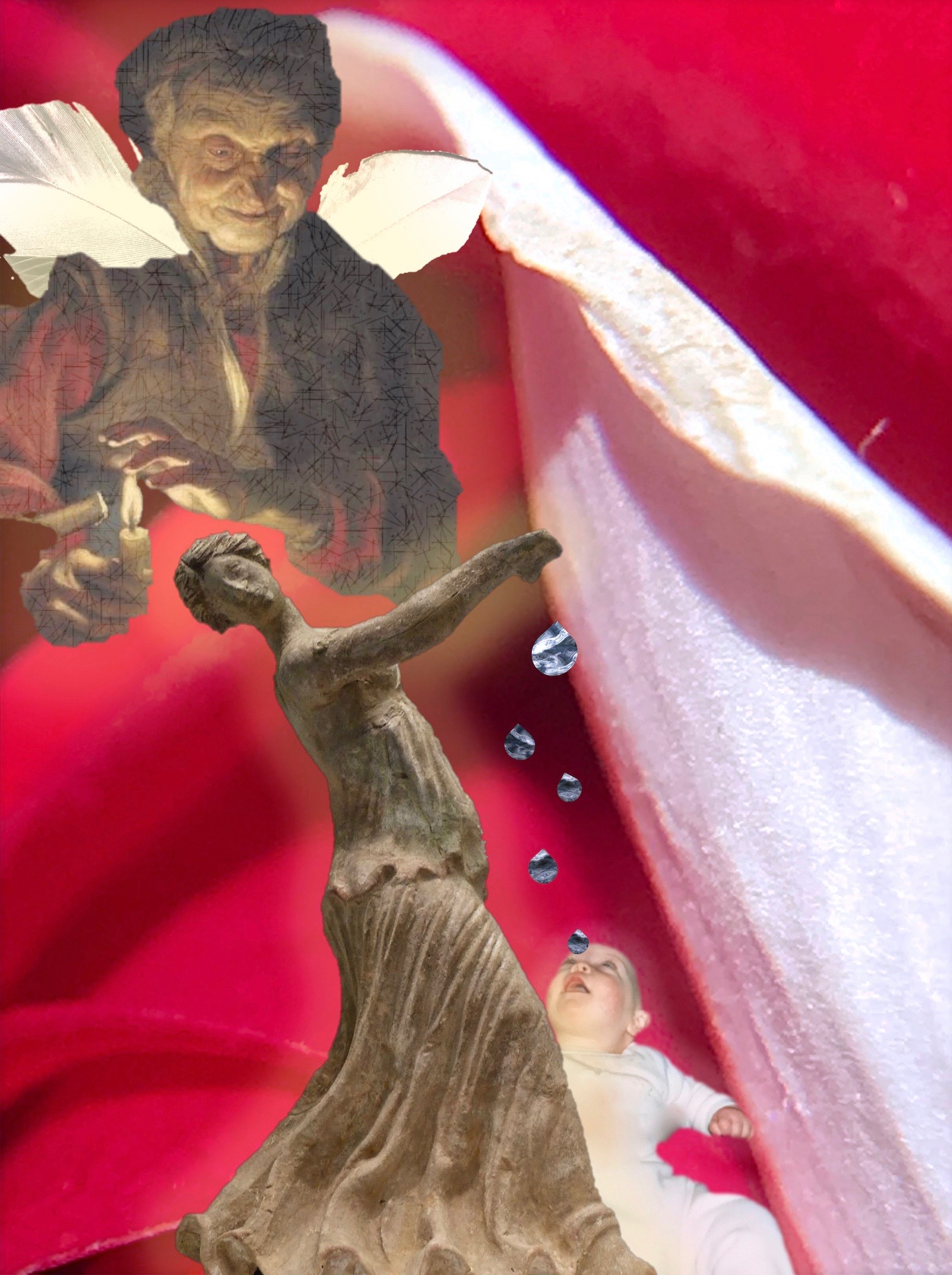 I am a dual citizen of the United Kingdom and the United States and have been raised by a family that observes multiple religions and world views. I am a writer, teacher and photographer with a passion for stories. I work as a preschool teacher in Boston, MA. – Sarah Deckro
"Passage" from Crone Wisdom by Valerie Forde-Galvin
raising you from infancy
I make the journey with you
being carried along
to share in your discovery of life
seen now through clear bright eyes
obeying some genetic imperative
to move
we take our tentative first steps
sometimes falling flat
and ultimately gaining ground
injuring and healing
alert to sounds of human interactions
complex words and gestures
using all the senses
plus that capricious sixth
to elicit meaning
though our understanding often fails
mostly finding life a muddle
but nonetheless carrying on
until I see you standing
quite apart from me and on your own
on this proud glorious June day
in robes or gown and sunlight
and know your passage is complete
and because I've made this passage with you
this day for me is bittersweet.
As a mother, teacher and psychotherapist over a span of too many years, I am continually amazed at life as it unfolds. I have found that poetry is an excellent way of articulating this experience of being human. And this is why I write. – Valerie Forde-Galvin
"Alice the Queen of Hearts" by Camille Christian
… She shouted, "Thanks!" up the well as if she were talking to her fairy godmother. And there was no one and nothing that responded back to her but the sound of her very own echo shouting back.
Alice took her first step inside Wonderland for the third time in her life.
Wrestling the giant beast in midair Alice struggled to take down the monstrous creature. Trying hard not to lose her balance she clasped on to its very large wings attempting to steer it away from innocent bystanders but failing to miserably. Right as the Mad Hatter delicately picked up his morning cup of tea to take his very first sip of it, the giant fire breathing dragon swooshed right above his head and snatched up his hat with its very long sharp teeth exposing his big bald spot, and leaving the Mad Hatter's tea party completely destroyed. Next, the awful creature rummaged right past the White Rabbit's house into the beautiful flower garden sitting beside it, disturbing poor Red Rose's choir practice and their morning tune of All in the Golden Afternoon and making her furious.
"Whoops! Sorry." Alice shouted back struggling to gain control of it. Once she finally managed to tame the beast by wearing it down she stabbed the top of its head with the Vorpal Sword causing it to crash on top of the table where the Queen of Hearts had prepared a big royal feast in her own honor. But before the Queen could pick up her tart to eat it the black dragon's body had slid all the way across the very long table with everything still sitting on top of it, causing plates of food to be tossed everywhere and the royal family (aka the heart cards) to scatter about screaming. And right when the beast's body had stopped dragging, its gigantic head toppled right on top of the Queen of Heart's plate crushing her tart so that it was no longer eatable.
Alice who was still sitting on top of the creature's body stared at the Queen with her striking blue-green eyes apologetically as she watched the Queen's face turn three pitches redder than it already was. Humiliated by the crowd staring at her and waiting for the Queen to explode Alice whimpered, "Uh, sorry." But right as she said it, the entire table broke and the Queen of Hearts yelled, "Off with her head!" Seizing the girl, the soldiers (aka the club cards) were just about to execute her when the White Queen ran out of the castle and shouted, "Wait! Don't execute her." Reluctant to comply at first, the soldiers slowly removed their grip off her, confused by her request. Grateful to be rescued by the White Queen, Alice walked up to her and bowed down.
"Congratulations! Since you have successfully defeated the Jabberwocky, I hereby declare you the new Queen of Hearts!" the White Queen proclaimed.
"What? Preposterous! You can't do that." shouted her sister pissed. "Just who do you think you are?" But ignoring the now-expelled Queen all of Wonderland and its inhabitants began to cheer loudly as the White Queen crowned Alice in front of the entire kingdom and began to chant, "Alice! Alice! Alice!"
I am an African American female who enjoys writing fiction stories for a living. – Camille Christian