"There's no doubt in my mind that I have found out how to begin to say something in my own voice." – Virginia Woolf, Diary, July 26, 1922
Have you begun to say something in your own voice?
Our collaborative narrative offers a place to start, to continue, or to return to what you want to claim. In creative response to January's featured Q, one woman finds herself interwoven with doubt and strength, another resurrects herself with music, another claims herself a multi-mirrored funhouse.
To help another woman say something in her own voice, published poet and clinical therapist, Kristi Crutchfield Cox offers guided consultation and a generous gift basket for "Claiming Self." This gift is for one woman, woman-identified, or They inclusive.
We continue with a question central to the heart, to claiming "the thing itself."



I wander. And I wonder. And I worry
About everyone I meet.
I wonder. And I worry. And I wander
Until I figure it out.
The story's old, but so am I. There goes the day catching on fire.
– Melissa Ann Sweat, Lady Lazarus, "Wonder, Inc.," The Q
_________________________________________________
"In the Funhouse"  by Robin Stone
I am two sided, eight sided, one hundred sided, a funhouse mirror.
One flat surface reflects me cleaning the cat litter, setting alarms, buying groceries, hurrying to work; thinking a thousand crazy thoughts where anxiety and torpor live.
One surface, not visited often enough, is where I count blessings for this lucky lucky life.
The other mirrors make me large, small, fat, thin, distorted with joy.
Then, I sink and flow with kindred souls. They step through with me to a timeless place of safety for dangerous ideas and laughter. Together we create objects, words, music, scents,and hope from the jumbled pile of life detritus. We make something new and sweet. Like a baby.
No one can do it alone.
_________________________________________________
"Am I?" by Marta Szabo
I am creative and definitely a woman, but it has taken me all of my 61 years to be able to claim those words. Creative. Was I? Enough? I mean, compared to all those whom everyone had heard of, and all those who didn't work 9-5 so they could write or paint — did I count? Was I an artist? It was the loftiest title to claim, and every time I measured I fell far short. But yes, I am. Not one that looks like what I thought artists looked like, but my god I am one. Though sometimes, hearing about another's life, I still wonder and have to find my way back to what is true.
And woman? Oh, that word never felt right. Girl, yes. But woman? Not an identity I embraced. Technically, I knew I was one, but I seemed to have little in common with what "woman" conjured up for me. Woman felt old. Grown-up. Not sexy. But lately — over the last few years — I have become little by little proud of "woman," not so much because I know I am one – and I do – but because I am proud of the company to which I have automatic entree. I like the company of women. I feel a connection there that can't be shared with a man. It's automatic and tribal. Women know each other in the crowd.
Still, these two identities I take not for granted. Even as it is so obvious I am both. My stance on this branch is tenuous — which may have a lot to do with being an artist, and being a woman. Doubt is interwoven with the strength.
_________________________________________________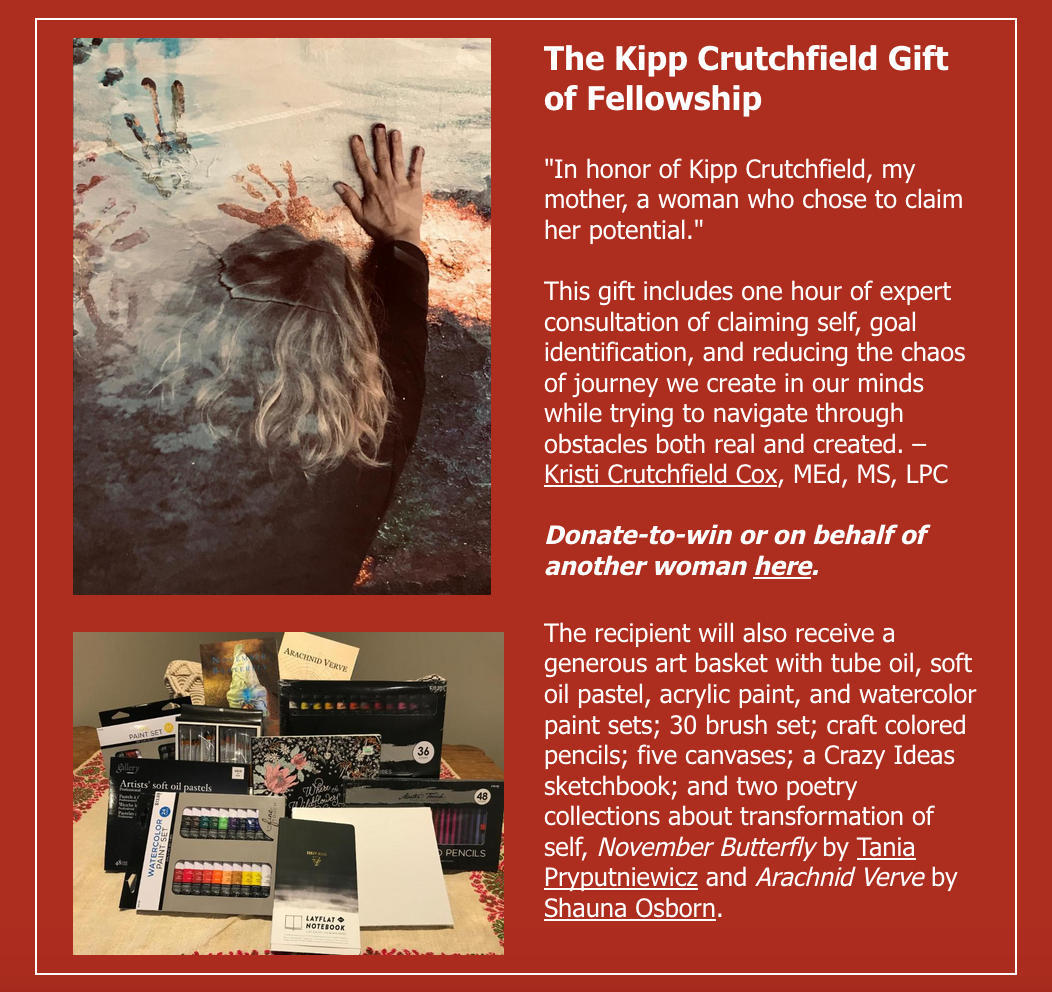 Donate to win the Kipp Crutchfield Gift of Fellowship or donate on behalf of another woman here.
We will announce the dates for the drawing this February.