"Honey" by Margaret Chula
I dream that I visit Mother in the last days of her life as she lies in bed
naked, comfortable being naked as she never was when she was alive,
her back tan and supple like Katherine Hepburn's in The Philadelphia
Story and I'm naked too as we compare bellies—how our fat is below
our belly buttons, not above like a shelf that can fold over things and
hold them fast, and she looks down to see how much pubic hair I have
left, but I cannot bring myself to look at hers and then she smiles at
seeing the raised skin tag, brown like hers and in the same place—the
fold of her left thigh—discovered one golden afternoon sunning together
by the pool never imagining winter or old age or even this dream, years
after she's gone, where she's offering me a jar of honey saying Rub this
into your skin. It will keep you young.
____________________
Share your response to this work, in any form, here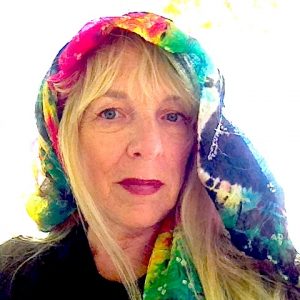 Margaret Chula Artist Statement:
Margaret Chula is a poet, teacher, and performance artist. She has
published seven full-­‐length collections of poetry including, most
recently, Just This. Daffodils at Twilight is forthcoming from Aldrich
Press. Her poems have appeared in Prairie Schooner, Kyoto Journal,
Poet Lore, America's Review, Cloudbank, Windfall, Sufi Journal, West
Marin Review, and VoiceCatcher as well as in haiku journals and
anthologies around the world. She has twice been nominated for a
Pushcart Prize. Margaret has been featured at writers' conferences
and festivals throughout the United States, as well as in Poland,
Canada, and Japan. From 2010-­‐2014, she served as Poet Laureate for
Friends of Chamber Music in Portland, Oregon and is currently
president emerita of the Tanka Society of America. Having lived and
taught in Kyoto for twelve years, she currently makes her home in
Portland, Oregon, where she hikes, gardens, and creates flower
arrangements for every room of her house.