"Great-Grandmother Annetta" by Lisa Lutwyche
Once I learned to watch her hands
I forgot to be afraid of her whiskers.
Twisted driftwood fingers
tied with the blue ropes of her veins.
Skin like draped patterned silk,
or spotted wax, melted, crinkled,
folded over sinewy bands.
Quick machines, those deft fingers
snapped green beans like cold jade,
"pop-clink, pop-clink, pop-clink"
into a thick white bowl with chipped edges.
Smiling, she murmured responses
to my breathless little-girl questions.
"What was it like back then?"
Her hands stilled, crossed on her apron.
She sighed, eyes closed, remembering.
____________________
Share your response to this work, in any form, here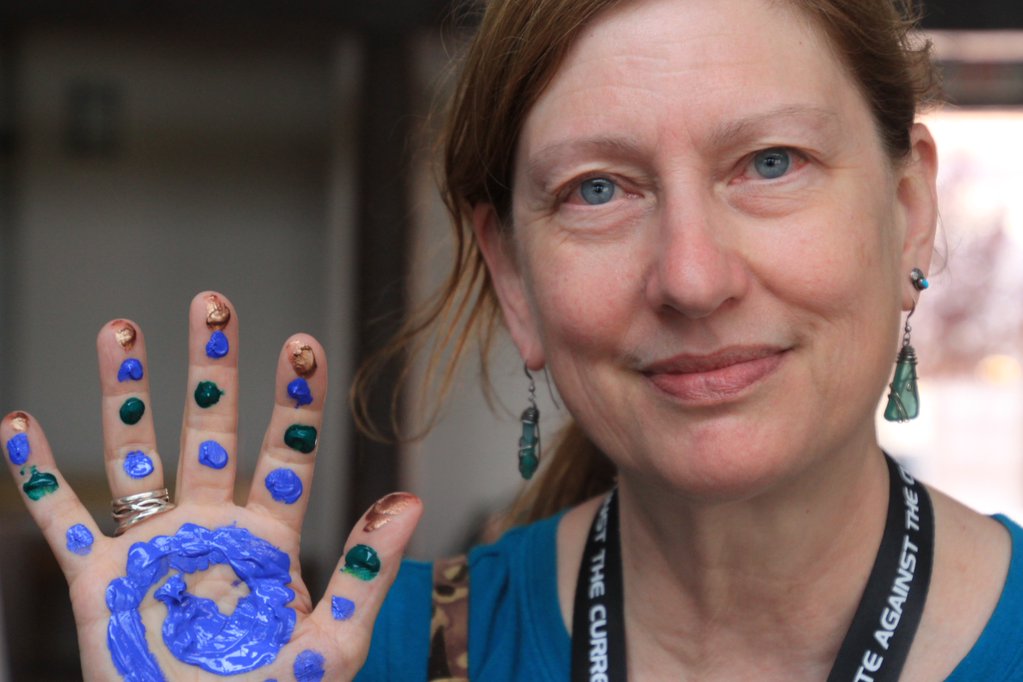 Lisa Lutwyche Artist Statement: 
Lisa Lutwyche received her MFA in creative writing from Goddard College in 2013. Poet, artist, produced playwright, writer, and actor, she has been anthologized and published across the US and in the UK since the1990s, including: Mad Poets Review, Minerva Rising, Tamafyr Review, Falklands War Poetry, Sparrow's Trill, In the Questions – Poetry by and about Strong Women, cancer poetry project 2, and Fiction Vortex. Lisa was nominated for a Pushcart Prize for her poetry in 2000 and again in 2015. Her full-length book of poetry, A Difficult Animal, is due in November 2016 from Saddle Road Press. Her background includes a BFA in painting and a BA in art history; twenty-two years in corporate architectural design; teaching art to special needs adults; working as an optician while in graduate school. She is currently an adjunct Assistant Professor of English at Cecil College in Maryland and at Delaware County Community College in Pennsylvania.