"Glide" by Ginny Mahar
           I walked out the back door of the house, fifteen years old with a pair of white leather ice skates looped over my shoulder. Down the hill and through the valley of the yard, I passed remnants of a snowman in a heap amid a Michigan-winter's worth of snow. Beyond, a wall of long-needled pines opened into a meadow. Long coral ribbons of the day's last light wove through the sky: the kind of melancholy sunset found near the Great Lakes in February, long and low and crisscrossed by birds as they flew to roost for another frozen night.
           I reached the pasture and climbed through the fence posts. They creaked with the cold. Before me stood a giant frozen puddle, as big as a basketball court, sparsely wooded with the bare winter skeletons of grey-barked trees. The ice was perfect. Smooth and white. As I stepped onto the crisp edge, water bubbles spread in outward directions, and the sound of plastic crackles vibrated through the soles of my boots. I shuffled out towards the thicker middle and gingerly sat down to tie on the skates.
           The horses were feeding far away towards the barn, their musk muting into the smell of the cold. I pushed onto my feet, and the steel blades clicked and slid as I made the first gliding steps. I gathered speed, tracing a great smooth line through the trees, drawing bows around them, and circles, arms outstretched in a winter ballet. I hinged forward in a T-shaped arabesque. I skated grand laps around the perimeter, legs stroking outward. Cold air pinched at my face and neck, nipped at the sliver of skin between mittens and cuffs.
           There was only the sound of sharp metal slicing across frozen water, and the glorious sobering cold.
____________________
Share your response to this work, in any form, here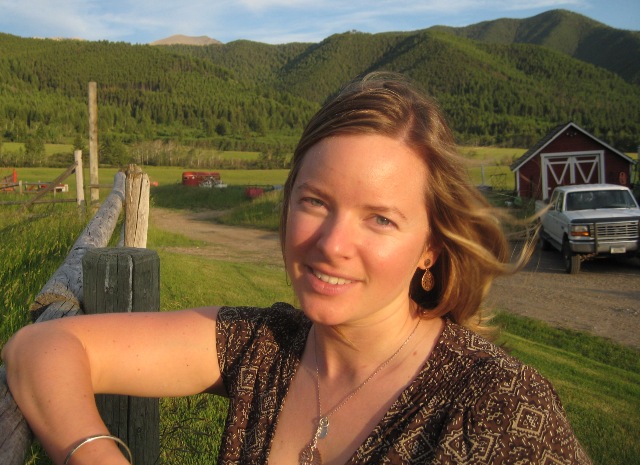 Ginny Mahar's Artist Statement: Ginny writes creative non-fiction of all sorts from her home in Missoula, Montana. She is currently working on a collection of personal essays, in addition to writing freelance articles on topics like food and dining, parenting, skiing, and outdoor adventures. Ginny is also a professionally trained chef and cooking instructor. After a recent diagnosis with Hashimoto's disease, she decided to turn research into recipes on her website, Hypothyroid Chef. In her free time, when she's not making mud pies with her son, mountain biking with her husband, or hiking with her dog, you can find her knee-deep in a trout stream.